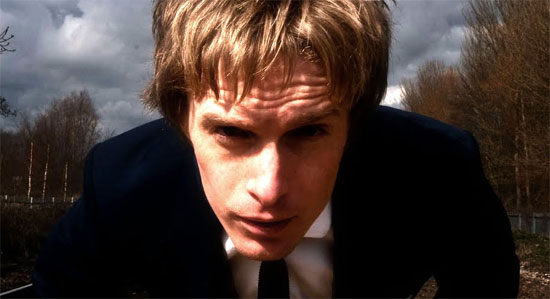 Lack of Afro (Adam Gibbons) has achieved a startling amount in the few years since his first releases on Freestyle records.  With four highly acclaimed albums under his belt, touring live and DJing across the world, and producing and remixing everyone from Tom Jones to The Pharcyde. Following on from Lack of Afro Loopmasters 'Analogue Soul' sample pack we caught up with Adam and get the low down on his studio in this Lack of Afro Interview.
How did you approach the process of creating Analogue Soul?
"Having never done a sample pack before, I started writing the song kits as I thought they'd ease me in to the process. I sketched out the main groove ideas for each track, played as many instruments as I could then called in my good friend George Cooper to play the keys parts. I can play keys, but he can really play keys y'know? Once the three song kits were done, it was then a case of coming up with the individual instrument loops. This was harder as I wanted to give producers some really useful tools, not just for the loops to sound good, but to actually be genuinely useful. Obviously this took more time to come up with. I'm also indebted to the great musicians who helped me out with this pack: George Cooper (keys, drums), Lukas Drinkwater (guitar) Mike Bandoni (drums)."
How did you find the overall experience?
"It was cool putting it all together, especially taking the time to concentrate on different instruments – normally when recording a track you record on each instrument just what is needed for that particular song (then move on), but in this case it was nice to spend more time with each instrument trying to get the most out of each one was an eye-opener. Its a lot of work! More than people realise I think. A lot of editing involved to get the loops as precise as possible. And keeping the quality control high was, as always, the main priority."
Below is the video for 'A Time For' feat Wayne Gidden.
What can people expect to get from your sample pack?
"The main focus of this pack was to keep it analogue! Everything was recorded to a tape machine before (and sometimes run back through the tape machine afterwards too) to ensure that all of the recordings were as warm as possible. I'm just not into digital, 'clinical' sounds – they have never been my thing. The Lack of Afro sound is full of imperfections, which sums up analogue recording. For me thats where the magic is. I also wanted to include a number of sounds in this pack that I've used time and again in my own productions – listen carefully you'll hear them. And drums, I love drums! I wanted to give the listener as many great drum loops as possible, so in this pack you get 3 drummers for the price of 1: Mike, George myself all got behind the kit and did our thing. Its all in there – a balance of funk, soul, hip-hop jazz but heavy on the warmth."
Below is a photo of my current studio set up.Its not a big room, and the acoustics are not ideal, but I've put a few foam panels up and it seems to do the job.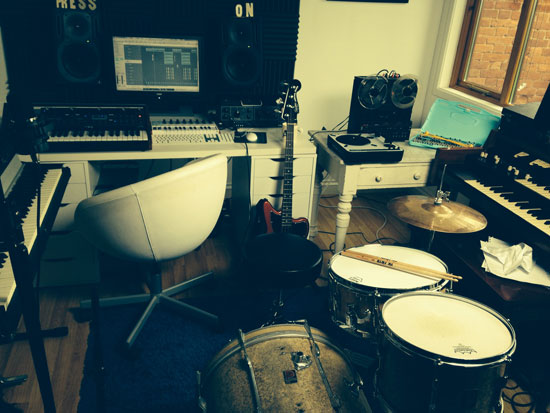 How has sampling and the use of samples played a role within your own productions?
"I definitely dont sample a much as I used to, but they still play a very important role in what I do. When I first started writing, samples played a huge part – I found the whole process of finding samples then recontextualising them into something new very appealing, not to mention very addictive. I'm now in the very fortunate position of being able to play a few instruments myself and, to cover the ones I cant play, I'm lucky to be able to call in great musicians when needed."
What are your current go to plugins?
"I use the UAD2 range of plug-ins extensively – I think they're incredible. In an ideal world of course, I would have a studio packed with the outboard versions of all the classic hardware that the UAD2 plug-ins emulate, but until that day, these will do nicely. Its hard to choose a favourite as they (Universal Audio) havent made a bad one yet, but I use the 1176 more than any other. It sounds great on pretty much everything, especially vocals drums. Its the 'classic' compressor, and for good reason – I use it on every track I make.
Please give our readers a production ''Tip'' or ''Trick'' that you use regularly or that defines your sound?
"I get asked about my drums a lot – to get a deep drum sound, I use a lot of overlaying. So for example I'd record myself playing the drums with one (or sometimes two) microphones – then manually layer lots of different kicks and snares underneath. Sometimes toms hi-hats too. Then add more live percussion on top. This technique gives you a lot more options as a producer because instead of just having one constant drum sound that runs through the whole track, you can bring in (and drop out) the kicks snares at will, creating more dynamics and light shade."
Below is a selection of Lack of Afro's Instruments: (l-r conga, bass guitar, Fender Rhodes Mark I, tambourine, guitar, Moog Little Phatty, tenor saxophone) "All these are used on a regular basis. I especially love the Fender Rhodes – one of the most flexible instruments ever. There's nothing quite like it"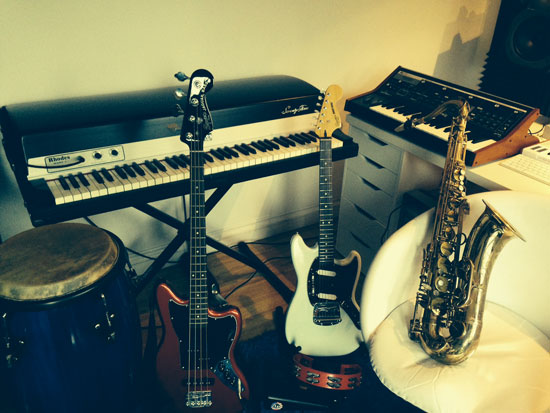 Please give us an insight into what the future holds for you.
"The new Lack of Afro album "Music For Adverts" is released in March next year, to be followed by a live band tour in April. I'm currently writing producing music for a new ABC sitcom that will air in February. The debut album from Herbal T is also out in the next few weeks which I have produced some tracks on, and I'm also in the studio with The Unity Sextet next month for their new album."
Loopmasters Lack Of Afro Presents Analogue Soul is out now and is available from Loopmasters here.