We've asked our Plugin Boutique users to list their best reverb plugins in our annual survey. Here's the best reverb plugins for 2012 as listed by our respondents! You can view video for each plugin in the player below and find out more about our best reverb plugins and where you can buy them in the text descriptions.
1. Logic Space Designer
Space Designer is Logic's excellent convolution reverb that comes bundled with Logic. Like other convolution reverbs it uses impulse responses of various environments to create excellent representations of "spaces". This can be acheived by firing off a special test signal into a space and recording the result using an accurate microphone (or two mics for stereo). The convolving reverb can then 'cross-multiply' the impulse response with the dry audio you want processed, and the end result is that the audio sounds as though it was originally recorded in the real space that you've previously 'sampled'. Definitely a big favourite, Space Designer is full of creative possibilities.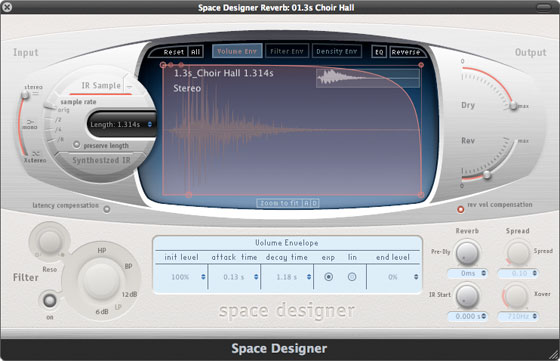 2. Valhalla Room
"ValhallaRoom is a versatile, true stereo algorithmic reverb. It features eleven original reverberation algorithms (including the latest Dark reverb modes, Nostromo, Narcissus, Sulaco and LV-426), and has been designed from the ground up to produce a wide range of natural reverberation sounds. Sounds range from tight ambiences and rooms, through traditional hall and plate sounds, all the way up to vast modulated spaces. The algorithm designs have been influenced by some of the "classic" room simulation boxes, as well as state of the art modern theory."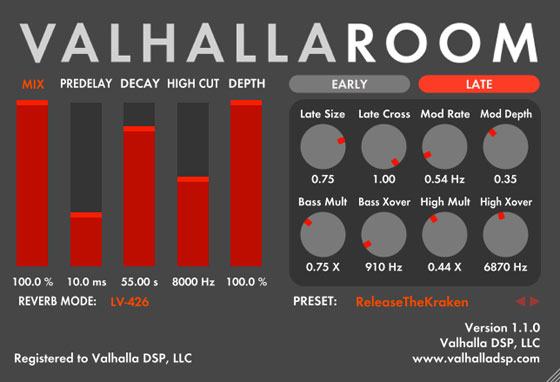 3. Lexicon PCM Native Bundle
"The PCM Native Reverb Plug-In Bundle is the ultimate reverb plug-in for creating professional, inspirational mixes within popular DAWs like Pro Tools, Logic, and any other VST, Audio Unit, or RTAS compatible platform.
With all the flexibility you would expect from a native plug-in, this powerhouse Bundle delivers 7 legendary Lexicon reverbs with hundreds of the most versatile and finely-crafted studio presets, including recognizable classics from Lexicon's immense library of sounds. Designed to bring the highest level of sonic quality and function to all your audio applications, the PCM Native Reverb Bundle will take center stage in your DAW."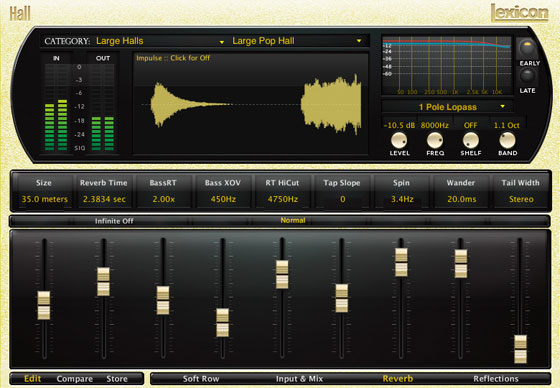 3. Ableton
Ableton's native reverb came in at number 3 in our list of customer favourites. Ableton Live's Reverb is a flexible tool for adding virtual space to a sound, from subtle coloration to spacey saturation. The input signal passes rst through high and low cut lters, whose X-Y controller allows changing the band's center frequency (X-axis) and bandwidth (Y-axis). A Quality chooser controls the tradeoff between reverb quality and performance. Eco uses minimal CPU resources, while High delivers the richest reverberation.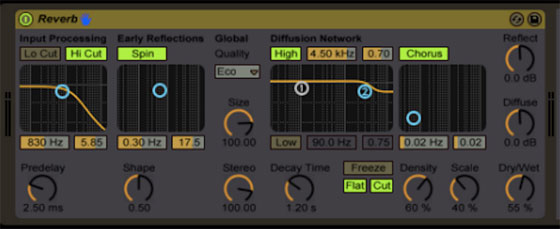 5. Altiverb
"Altiverb 7 is the industry standard convolution reverb plug-in. It uses top quality samples of real spaces to create reverb, ranging from Sydney Opera House to the cockpit of a Jumbo Jet. Altiverb 7 is efficient on the cpu, offers many parameters to tweak reverb, is total recall automatable, and has 64 bit support. Every month Altiverb 7 users receive new impulse responses for free."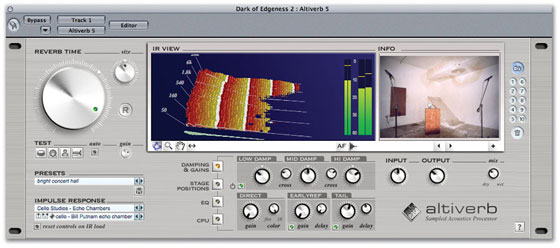 6. Breverb
Overloud BREVERB is a high quality reverberation plug-in, modeled on the most acclaimed hardware classics. BREVERB is the ultimate solution to any recording, mixing and live need. It comprises four different algorithms, Hall, Room, Plate and Inverse, each one accurately modeled and engineered with no compromises in sound quality. The advanced modeling research effort that was put in the development of BREVERB allows you to recreate the sounds of countless records or even create your own signature sounds thanks to advanced customizable options.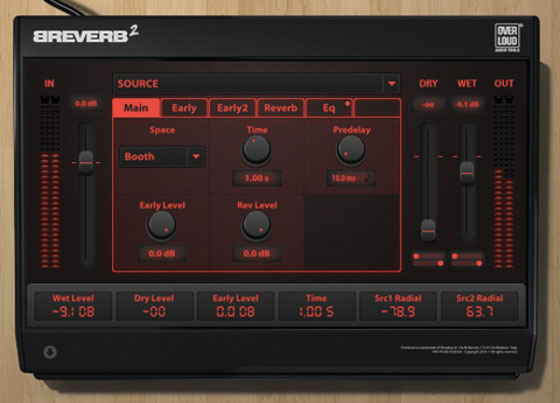 7. Ambience
Ambience is a free reverb that rivals the quality of the best commercial reverbs. Amongst other things it has a nice hold feature, great for turning short sounds into long sustaining ones. Ambiance is arguably one of the best free reverb plugins on the market.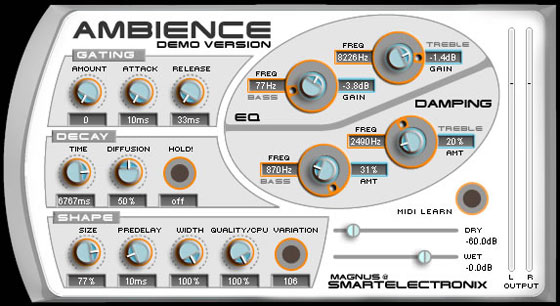 8. RP-Verb
"RP-Verb is the fruit of Rob Papen's decades-long study of reverb and endless hours of exploring, testing, and tweaking by Rob and Jon Ayres. The result is exactly what you would expect: a stunning, musical reverb that brings unmatched dimension and fullness to your mixes.
But if you're thinking that this sound quality must come at the cost of usability, fear not RP-Verb has a straightforward, intuitive interface that puts all the most essential parameters right at your fingertips. And like all Rob Papen plug-ins, it inspires right out of the box with spot-on presets that range from intimate venues to abstract, surreal spaces.

9. TAL Reverb-2
TAL-Reverb-II is another example of a quality free reverb and is the most popular TAL-Reverb. It combines the retro sound of TAL-Reverb-I with additional features. The new version has some small improvements in the internal modulation algorithm.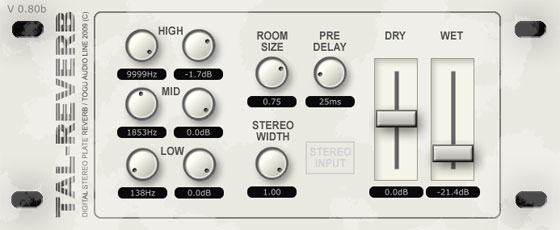 10. Waves IR-1
"Wembley Arena. Grand Ole Opry. Sydney Opera House. CBGB's. Birdland. Want to record in the world's greatest venues? Now you can. IR1 puts the meticulously captured sound of these and many other renowned spaces in your hands. It lets you capture the sonic characteristics of your favorite rooms and hardware, and shape the reverbs with pinpoint precision. Everybody wants to play the big rooms. With the IR1, you're there.