For anyone who's caught up in auditioning samples within their project thanks to the Loopcloud plugin, editing samples or adding effects in the loop editor, it might be hard to notice that there's a lot of free content you can get from our software. In this article, we'll shed more light on how to get the most out of Loopcloud and get more points to grab beats, bass, drums, acapellas and more with no cost.
Remember, there are four tiers of membership for Loopcloud 5, including a Free tier where you can get free samples every day, so there's no excuse to not download free samples and loops from Loopcloud today and start creating your most inspired music ever.
1. Get our Free 1GB Welcome Pack
Everyone who creates a Loopcloud account and downloads the software gets 1GB of free samples, free loops and free sounds as a welcome gift. Far from a bargain basement collection, this taster pack is full of some of the best samples from our commercial packs to really get your juices flowing.
With a varied selection of loops and one-shots, beats, synths, acoustic instruments, vocal acapellas and more, it's an audio shot in the arm your tunes have been waiting for.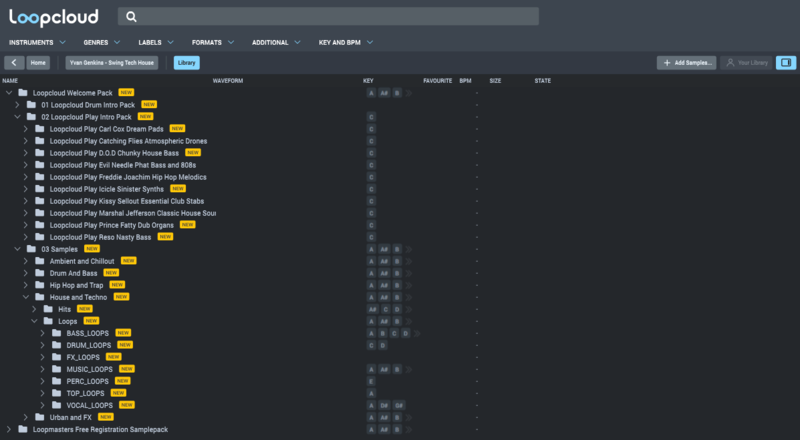 You don't even have to download them…
Thanks to the Loopcloud plugin (VST/AU) and its instant connection to your DAW of choice, you can demo all your free samples in time and in key with your projects, before you even download them.
Just load the Loopcloud plugin on a MIDI / Instrument track in your DAW project, and with the Loopcloud app open, the two will connect. The plugin sends tempo information to the app, and allows it to sync up with your DAW's playback. The result: select a sample in Loopcloud, hit play in your DAW, and you'll hear a lightly watermarked version of the sample coming through the Loopcloud plugin in your DAW, in perfect time with your track. You can experiment with tuning in Loopcloud too before you commit to the sample.
Hit the Cloud icon in Loopcloud to make it yours and download the high-quality version of the sample, which you can drag straight into your DAW from Loopcloud.
2. Get 150 Free Samples each Month on our Free Plan
There are millions of royalty-free samples and loops available in Loopcloud. We know that the inspiration from even a gigabyte-strong pack won't keep most producers going forever, so we give you 150 free samples every month just for opening the app.
It's not very obvious from the main Loopcloud interface, but you can search for the secret 'FREE' tag in the search bar, and instantly find all the available free goodies in one place. From big room beats and banjo plucks, and once you've added them, they're yours to keep and download again in subsequent months and years.
These sounds are taken from newly released packs, and they give you a flavour of some of the best samples in each collection we release. We've released so many samples over the years, so the best way to give a new pack a thoroughly decent outing is to highlight its best samples and give them to everyone – not just to grab a random selection of the content.
You can search for the secret FREE tag in the search bar, and instantly find all the available free goodies in one place
If there's a pack you're interested in – check out the home screen for the latest new releases – you can demo every single sample in your project using the Loopcloud plugin, and you can come out smiling by claiming some of the best content for absolutely nothing.
Keep in mind that there's a limit on the free samples you can add to your library this way. You can grab 5 per day, so make sure you keep a keen eye on that mouse-clicking finger.
3. Get 900 Free Samples with a Free 30-day Studio Trial
While Free tier users get 5 samples per day credited to their accounts, things get hotter in the other tiers: An Artist-level plan gives you 400 free samples per month (10 per day + 100 points for sounds from the subscription), a Studio plan gives you 900 free samples per month (20 per day + 300 points for sounds from the subscription), and Professional plan gives you 2,100 free samples per month (50 per day + 600 points for sounds from the subscription). One thing to remember is that the Studio tier has a 30-day trial, giving you a lot of free samples, loops and sounds just for doing the trial.
How do Points Work?

Points have changed in Loopcloud recently, shorter samples on Loopcloud – that's drum hits, plucks and other quick, small samples – cost one single point.
Longer samples and loops cost a little more. You'll spend 2 points on most loops, including music loops, most drum hits etc; and there's a charge of 4 points for very long sounds such as soundscapes, acapellas and long synth chord progressions.
Edit your loops and drag out the processed result
With Loopcloud's Loop Editor, you get to mess with the sample, slicing and dicing it into the perfect order until you've created something entirely new, all before even claiming it as yours by spending points. Next, you can drag the result into your DAW as its own processed WAV file, with your edits baked in.
Users of any Loopcloud plan can edit samples and export the results, and the ability to use the preset slicing patterns. However, missing for Free users is the ability to save patterns for re-use later, although your edits will stay attached to each sample, which you can export processed or unprocessed into your DAW.
Other Loopcloud features lacking in the Free tier is the effects rack, cloud storage and the option to add any additional packs for the two creative plugins DRUM and PLAY that run alongside Loopcloud.

How to get the most out of your own sounds
When we started tagging the entire Loopmasters catalogue to create Loopcloud, we didn't just go through manually and start doing it by hand – there are far too many hundreds of thousands of samples to get that done easily. Instead, we created an algorithm that could analyse the sample to determine its content, making it far easier to quickly check that the detection had worked at the end of the process.
You now get access to the same technology for your own samples, even for the free version of Loopcloud. Pointing Loopcloud to your own samples folder (or folders) tells Loopcloud to analyse your own collection and add it to your library for access within the app. Thanks to the intelligent tagging, you can search for your perfect hi-hats from a list of Loopmasters sounds you own, Loopmasters sounds you don't, and your own sounds – all using Loopcloud to sequence their playback in time with your DAW.
In higher tiers of Loopcloud, you can also store your own samples in the cloud, knowing that they're analyzed and ready to re-download whenever you need them again. Save your hard drive space and get your collection on the cloud.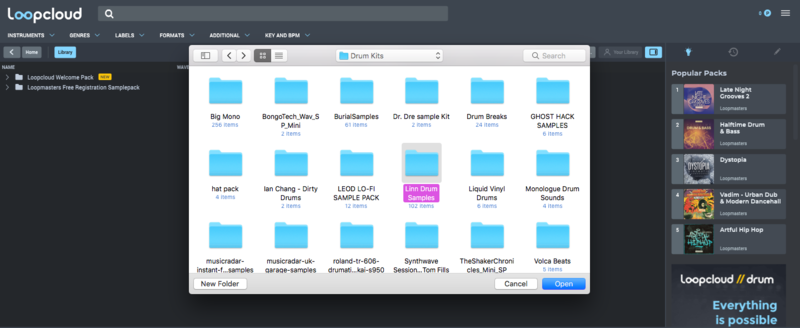 Loopcloud Benefits
It doesn't matter if you are a first-time producer or a professional studio head, there is a loopcloud plan for you. There is plenty available for free-version users, which we'll outline here alongside some of the benefits of our three paid tiers, so you can make a better decision about what's right for you.
There's a lot more on offer in the various versions, including extra tracks to help you audition samples, two very playable instruments, and patches for your favourite synths.
Multitrack Operation
Multitrack Operation lets you browse for basslines, search for synth pads, and find killer FX, all at the same time with easy chopping and changing. Instead of having to perform a completely new search every time you want to audition a sound in your DAW, different tracks give you alternatives to flip between. Whether you're comparing two beats on different tracks or auditioning two completely unique ear-candy samples, you can do it quickly and easily with this Loopcloud feature.
Free tier members get two tracks to flip between, while members of Artist, Studio and Professional tiers get 8 variations to load at once.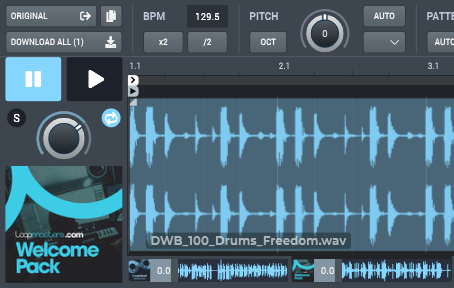 Effects
A Pro-only feature, effects processing is part of the Loop Editor, letting you add effects (from a choice of Delay, Reverb, Filter, Panner, Stop Reverse and Vinyl Stop) to your samples before getting them out into your DAW.
So far, so simple – you can add plugins to your DAW and on the Loopcloud Plugin channel, right? As effects application is part of the Loop Editor, you can apply any of the processes to individual slice you've made within a loop, audition the same processing and slicing with other material (immediately or later), and you can drag the processed (or unprocessed) result out into your DAW as a full sample.
Loopcloud Drum
With so many drum hits and one-shots downloadable from Loopcloud, there's a lot of choice – sometimes too much for some situations. Loopcloud Drum is a full drum machine plugin that you load in your DAW and connects directly with the Loopcloud app, giving you access to kits created by premier labels and superstar artists.
You get processing control over sequencing, sampling and playback functions, just like a regular drum machine, there's a 4x4 pad grid and a 16-channel mixer. Oh, and it all happens in your DAW, just like a regular VST/AU instrument.
Loopcloud Drum is available only to paid tiers of Loopcloud membership.
Loopcloud Play
Similar to Loopcloud Drum but for melodic, multi-sampled instruments, Loopcloud Play takes a tonal look at the best Loopmasters has to offer, curated and put together by top artists and the world's best sample labels.
You can instantly call up inspiring instruments with a large range of sounds and control methods
With Loopcloud Play loaded on an instrument track in your DAW, and the Loopcloud app-connected, you can instantly call up inspiring instruments with a large range of sounds and control methods, giving you something new to wrap your MIDI controller or piano roll around.
Loopcloud Play is also only available to paid members of Loopcloud.
New Patches and Other Formats
The free sounds mentioned elsewhere in this article – especially those searched out using the hidden FREE tag – are mostly offered in WAV format, but there's a lot more waiting in Loopcloud to buy using credits.
Users of FM8, Massive and Sylenth 1 synths will find loads of material for those synths in Loopcloud, ready to download and drag into your OS or your plugin straight from the browser. Material for all these synths is only available with the pro version of Loopcloud, however, free users will still find goodies for Massive and Maschine. Just like all our samples, these patches are tagged by instrument type to easily find what you want.

Other formats that are available in Loopcloud include Sampler patches for Battery, EXS-24, Kontakt, HALion, NN-XT, Sforzando and more, helping you grab a multisampled instrument and load it straight into your DAW session ready to play with.
Other types of audio file include Apple Loops, REX2, MP3, and even entire construction kits containing stems to manipulate and remix. There are also MIDI files waiting to be grabbed – again separated into categories of instrument type – as well as Ableton Live presets and packs for use in that DAW, if it's your weapon of choice.
Get Involved
So what are you waiting for? There's never been a better time to get involved with the most impressive collection of samples, hits, loops, patches and more on the web, and with perfect DAW integration as standard, you no longer have an excuse for not being inspired!