El Train, aka Luke Nyeke, is a Hip-Hop, R&B and Electronic Beats Producer from Brighton, UK. His music has been released on Labels such as Laruche Records, Darker Than Wax, Jakarta Records, and his own Shimmy Records.
He recently released his collaborative LP 'Puzzles' on NxtGen Records, enlisting the help of musicians including Lord Apex, Miki Rose, Barney Artist, and more…
El Train productions lean on the US West Coast Beats scene, and contains plenty of organic instrumentation played by Luke himself – he's a multi-instrumentalist, skillfully toting guitar, bass and keys…
Were you a guitarist or bassist before you got into production?
I started producing after I got interested in playing guitar and writing my own songs. When I discovered FL Studio, I'd record some guitar loops, then put some awful drum beats over that and try to rap over it with my friends, but hopefully none of that will see the light of day because that stuff was terrible!
When did you make the move to Logic?
I've been using logic for about 8 years now – quite a while. I love FL Studio, but it's not great for recording live instruments.
Your first sample packs, Future Beats & Soul 1 & 2, are being joined by a couple more later in the year. What's in your mind when you're crafting samples for these packs? How is the process different to writing tunes?

With the sample packs, I've been trying to make sounds that I'd use in my own releases. They're pretty similar processes, creating tracks and sample packs: you have to build the main loop of drums, bass, synths, guitar and so on, and then when you've got the core loop you can flesh it out with extra elements and instruments. Once you've got the main elements of a loop, you can break it down into different parts for the sample pack.
With a track, you can spend days and days working on it, endlessly tweaking small details. With a sample pack, you've got to make a large number of loops, and after working on one for a while, you go, "This one's done", and then you're back to a blank again, starting a new project. You get to a point when your brain stops working.
When you're starting a new idea every hour, you kind of have to mix it up, so you could be starting with a chord progression, or sometimes by making a drum loop or creating some weird percussion sounds. Sometimes I'll find a strange loop, maybe from a tune I started, and then manipulate the sound with effects like delays or tape simulation.
What about your own tracks? How do you usually get a vibe going?
A lot of it is playing and recording guitars or keys, then resampling. So I might create a guitar loop, maybe with a bit of Foley sounds or ambience in there as well. Then taking stuff out, bringing stuff back in, chopping it up and resampling it and putting back together, it's something that I find quite fun.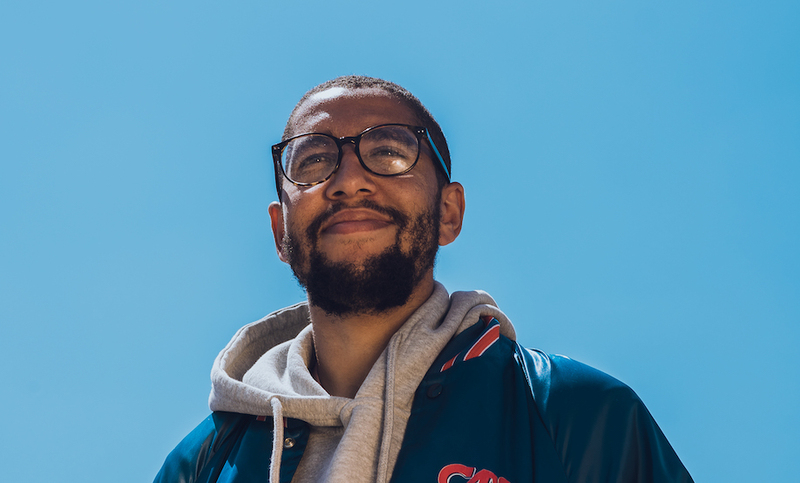 Also sometimes I like finding strange acapellas to use as a starting place. When starting from scratch I find it easy to write music around vocals that are already recorded, Then you take the vocals out and you've got a whole new track.
I usually play things in myself. Even when I'm not working on a sample pack, I've got loads of ideas that I've started, so sometimes I'll go back through the old ideas and projects, find a little element that I like, bounce that part out and then start something new based on that small specific idea, it can be a cool way to spark new ideas.
How about when it comes to writing with others? Do you bring along something for them to write to, or do you both start from scratch and write a song together?
It completely depends. Sometimes in a session, I'll play the artist a few things, and if there's something they like, we work from that… but sometimes we start from scratch, so it's usually more of a collaborative process.
There's a girl I've worked with quite a lot, Miki Rose. She sometimes writes to instrumentals from big producers, so I have to work with her to produce something original but with a similar vibe – it's a cool challenge. She's a good friend now, I've worked with her over a few years, we've probably got 20-30 songs sitting half-finished.
Were there any artists that you worked with on 'Puzzles' that you had a particular creative connection with?
I only spent a day or two in the studio with a lot of the people I worked with. It can be hard to build up a good relationship in such a short amount of time, but the more time you spend with someone the more comfortable you become. I loved working with Lord Apex, and Barney Artist – I love their stuff – although we didn't do studio sessions with those guys, it was all done back and forth over the internet.
How do those collaborations normally come about?
I just hit Lord Apex up online because I've heard his music. I contacted him saying I'm putting an album together with different collaborators, and luckily he was up for being on it. The Barney collaboration was through my manager at the time. Some collaborators are people I've met, and others are introduced to me by other people.
When you're both computer-based, you just end up tweaking sounds - it's a different dynamic when you're playing instruments together.
A laptop isn't the most collaborative workspace, do you take it in turns to use the mouse?
It depends who it's with. I recently made a track with J-Felix, he's a multi-instrumentalist and producer. We would just jam, I'd play one thing – bass or something – and he'd play guitar. We would both build a drum loop together then just jam parts over it. Taking the live recordings and arranging it together worked well. When you're both computer-based, you just end up tweaking sounds – it's a different dynamic when you're playing instruments together.
There are a few recent videos of you playing live with a band. As a producer, you craft every element and it's set in stone, so what is it like giving those elements to other people?
The idea of playing live was scarier I think – that's what I was dreading, but playing with other musicians was good fun. I played bass alongside a keyboard player and drummer. I wanted a bigger band – a guitarist, maybe some brass – but obviously the budget wouldn't allow that...
I taught the keyboard player the keys, then said, "You're probably a lot more talented than I am, so just do your own thing." Same thing with the drummer. It was really fun for sure.
When you see a classically trained keyboard player taking your chord progressions and moving them all around the keyboard, it makes you wish you'd practiced a bit more! And then a drummer doing crazy fills – it was sick to see. I think it's more interesting than when you just see a rapper with a DJ playing the instrumentals, who might not have really put much thought into their live show.
We're fans of your Facebook sample flipping videos with Doja Cat and S Club 7. Are you planning on doing more of those videos?
I've been meaning to. Originally I was going to do it every week. Making the tracks is fun but I hate filming the little bits – I'm a bit camera shy.
I had someone from the British Council hit me up actually, they saw the S Club video, they said they'd love me to make one of a British legend. They have their British Council Radio Show, and asked me to talk about how I made the video. I think I'm going to do a Beatles one, maybe Here Comes The Sun, but I need to have another listen and see, because they've got so much stuff.
I enjoyed sitting there and making songs alone. But eventually, opening up to collaborating with other people helped me to create more interesting music.
Are there any key things you've learned over the last few years that have helped you reach the stage you're at now?
I think a lot of it is putting the hours in, sitting at the computer producing. For a long time, I would just send tracks back and forth online, because I thought I didn't want to get in the studio with other people – I enjoyed sitting there and making songs alone. But eventually, opening up to collaborating with other people helped me to create more interesting music.
Also when collaborating with producers, watch and learn, you might see a trick they use that you've never thought of.

So you've released 'Puzzles', your latest sample pack is now out… what other things are you working on?
Since the album release, I've been working on as much new stuff as possible. I've got a track coming out soon, I made it with these guys called Fika – one sings, one plays guitar. It's just an end-of-year throwaway thing.
And then I've been working on a few EPs for next year – the first one is nearly finished, it's four tracks with four different vocalists and rappers, and it just needs mastering.
Also, I want to do some visuals for the songs. On the album I didn't do any videos – there were a couple of animated things, but no proper visuals. I want it to be a follow-on story, with each video following on from the last.
---
El Train's Future Beats & Soul 2 is out now on Loopmasters and available on Loopcloud, alongside Volume 1. You can find Luke's 'Puzzles' album on Spotify, Bandcamp and more.