I use Logic Pro quite extensively to compose and produce music. But one feature I never fully explored until recently was folders. I was aware they existed, but I just never seemed to have a practical use for them.
I decided it was time to dig in and find out what folders are all about, and share with you how folders can improve your workflow.
What Are Folders
As described in the Logic Pro 9 Help file: "A folder is a region that can contain other regions, much like a folder in the Finder can contain other folders or files. In principle, you can edit folders as you would edit MIDI regions."
Let's say you have several regions in your arrange window: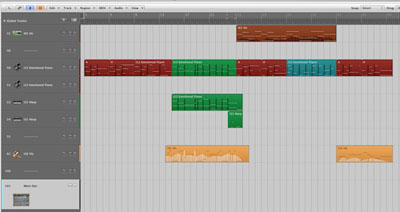 If you select them all and go to Region -> Folder -> Pack Folder, you will then see the following result: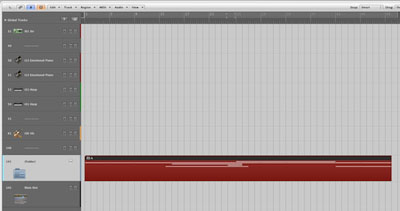 All of your regions have been packed inside a folder. The tracks still stay in place, but the regions are gone.
When you create a folder a new folder track is created with the folder acting like a region. You can edit this region just like any other, moving it around the timeline, copying it, cutting it in half, etc.
Now if you double click the folder you go inside, and you now have all of your regions: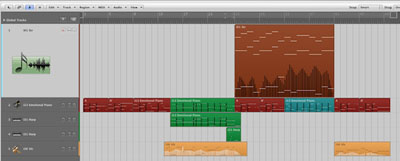 What is interesting is that you only see the tracks that are being used, and the timeline only shows the bars that the folder is placed on. This is convenient for getting a closeup view of what you're working on, eliminating any clutter from view.
If you double-click on any empty space, you will zoom back out to the regular arrange window view.
Simplify and Organize
One of the most immediate uses of folders is to clean up your workspace. If you're song is getting way too complicated and it's becoming hard to keep track of everything, pack a few folders and give your eyes (and brain) a break.
Organize by Instrument Type
When your session starts to get big and unruly, it can become work just to keep track of where everything is! A great use of folders is to simplify your session by grouping similar instruments together.
Here is an example of a session that is starting to get busy: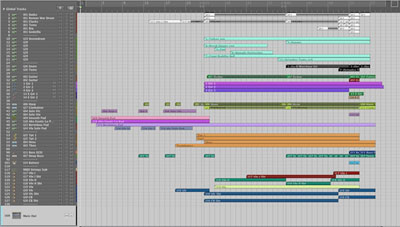 Not including spacers and Aux tracks, there are 46 tracks!
But really the cue could be broken down into the following groups of instruments:
·    Drums/Percussion
·    Guitars/Bass
·    Plectrum/Pads/Misc
·    Brass
·    Strings
If I select the regions of each section, pack them into individual folders, and label them, I get this result: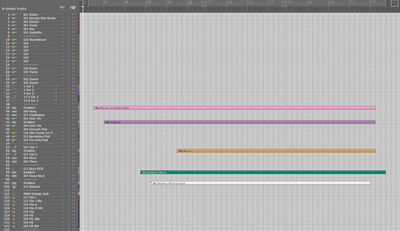 A bit ugly to look at but remarkably simplified!
Now I'll go go through and hide all the unused tracks since we just need to see the folders: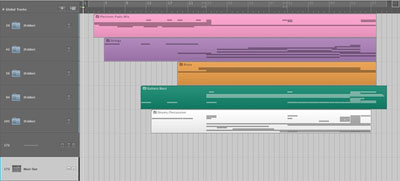 If I go inside the Drums folder all I need to see is this: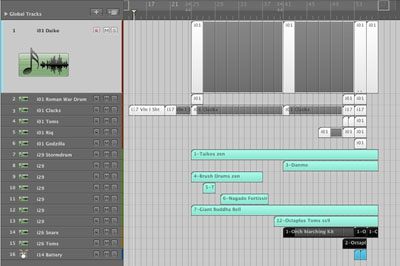 Make a Folder of a Single Track
Often I will have a drum part with a basic pattern that loops, and occasional changes for fills or variation. Something like this:

Before I was using folders, if I wanted to make that into a single movable region I would have to merge all the smaller regions together. This was annoying because then it became harder to go in and tweak the individual parts if I wanted to. But by packing the regions into a folder, I get both the benefits of moving the entire section around as a chunk, while also being free to go inside the folder and edit the regions how I want to.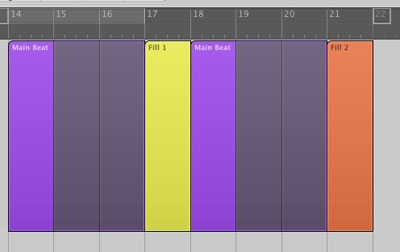 A nice feature of making a folder on a single track is that it creates a region, but not an entirely new "Folder track".