Tracks
1. Double click on the name of a track to edit it. You can also double click on a track name in the Inspector to edit it as well.
Inspector -Working with Layers
1. If you have multiple Layers open and want to switch between them quickly go to the Inspector and click on the Layers field. From there you can click on the drop down menu and choose which Layer you want to see.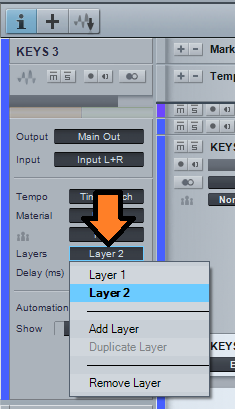 2. If you mouse has a wheel function you can also roll your mouse wheel over the Layers field in the Inspector to switch visible Layers for that track.
Transport- Various

1. Roll your mouse wheel over the transports tempo read out in real-time during playback, to slow or speed up your project.
2. Click on the Midi icon (furthest left) to bring up the Midi Monitor.
3. Click on the Sample Rate value to bring up a surprisingly wide range of options.
Transport – Metronome settings
1. Click on the spanner icon next to the Metronome icon to bring up a settings box for the Metronome.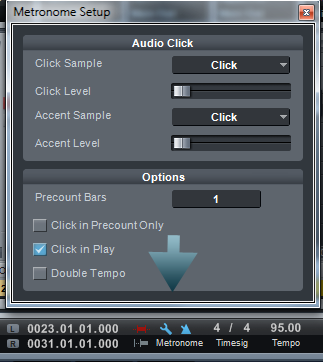 Original source: here.