Reason 6 has been one of the most highly anticipated updates of the Propellerhead product range for some time. Version 6 not only offers a streamlined product, audio support and a host of new features but also a trio of new effects processors.
Here we'll take a look at Reason 6 new devices  on offer, get familiar with the parameters and learn how they can be used in your projects.
1 – Reason 6 Comes Of Age
The smart guys over at Propellerhead have finally decided that their product line should be simplified and with this decision comes Reason version 6. Essentially this represents an amalgamation of Record 1.5 and Reason, with some new devices and features thrown in for good measure.
This means you can now install everything in one go. You get audio support, Reason's great devices and a huge analog modelled mixing console all in one handy application. This is a huge leap forward for both Reason and Record users alike giving everybody a more complete music production environment.
Although the focus of this update for many will be the fact that all applications have now been rolled into one, there are also 3 new devices to think about and using your productions. Let's break this trio down and find out what's on offer…
2 – Getting Pulverised…
The first device we will look at is the Pulveriser. At first glance this may just look like any other distortion unit, but in reality it's much more than that. It is probably closer to the truth to say that the pulveriser is in fact a form of synthesiser, as opposed to and effects unit.

The Pulveriser's many controls.
The pulveriser does contain a compressor and drive section in its input stage but beyond this you will find a filter, low frequency oscillator and an envelope follower. The unit also houses a pretty flexible modulation system.

The Pulveriser's rear panel.
You'll find there between all these different sections you are able to create some pretty diverse effects and the preset library supplied with Reason 6 shows off the devices flexibility very well.
A quick scroll through the factory presets will show you that the pulveriser is capable of anything from mild compression and overdrive to pretty wild modulation based effects. I would suggest starting with the factory patches to get your head around how this thing operates.
The pulveriser is certainly different to any other processor we have seen in Reason so far and is a great addition to the rack regardless of genre of music you are writing or producing.
3 – The Alligator
Another brand-new effects device in Reason 6 is The Alligator triple filtered gate. Again this is very different from anything we've seen in the application so far and will open up a whole new sonic possibilities for all reason users.
Alligator is capable of splitting any signal into three separate parts, each one of these parts can be individually gated, filtered and processed with one of the internal effects. The ability to split the processor signal in 3 individual streams means that you can breathe new life into static performances and sounds.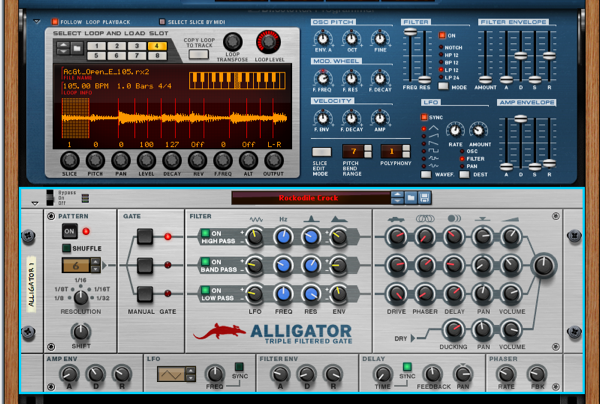 The Alligator is perfect for bringing static sounds to life.
Although Gates have often been associated with trance and other forms of mainstream electronic dance music, the Alligator is usable with just about any style and is an incredibly diverse processor.
When you consider you have access to high pass, lowpass and bandpass filters as well as overdrive, delay and phaser effects, you might start to realise the processing power you have access to here.
The three independent streams of audio passing through Alligator can also be mixed and hand to taste, creating contrasting patterns with an incredibly wide stereo field. It's quite possible that the Alligator is one of the best software gates out there today.
4 – The Echo, Echo, Echo…
Finally the last of the 3 new effects units is The Echo. This is a highly editable dedicated stereo delay line that emulates analog tape echo units. The Echo is capable of both retro and contemporary delay affects alike.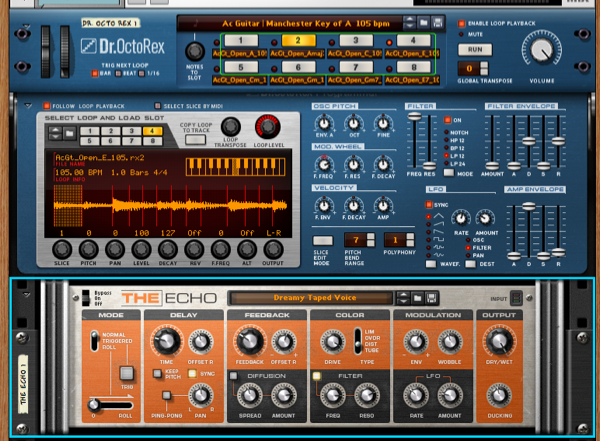 The Echo is the delay unit Reason users have been waiting for.
Although Reason users have had access to basic delay effects units and the ability to build custom delay lines using combinators, The Echo gives us the ability to sculpt a delayed signal with more precision than ever.
The Echo has a great array of controls including a dedicated resonant filter, adjustable stereo width, the docking feature and even a modulation section to emulate real-world tape delay effects.
To get a flavour of what this unit can do I would suggest delving into the factory presets and processing some of your favourite loops. Not only will this give you an overview of how diverse the device is but you'll also get to see how the patches are built and programmed.
5 – Summing Up
Reason has always been a great program and the introduction of Record left many Reason users still longing for audio support an extra mixing capabilities. Now with the Reason 6 update we all finally get access to the full list of devices and features.
The introduction of the three devices covered here greatly improves the overall flexibility of the program and brings us one step further to being able to use reason for all our recording and programming needs.
Original source – here.