The 10 Best Free VST / AU Reverb Plugins
[Last Updated: 6th January 2020]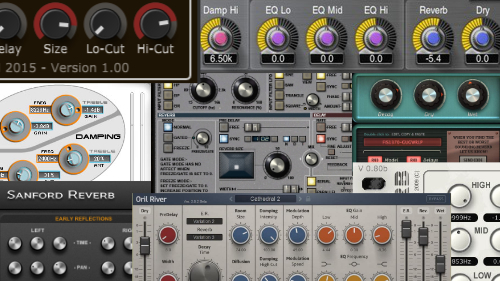 If there's one thing you can do to help your music connect with your audience, it's to make it sound more real, and reverb processors were born to do just that. By adding a sense of artificial space to your tracks and channels, these plugins make your virtual sonic stage come alive.
In this article, we'll take you through the ten top reverb plugins for 2020, describing what's so good about each and every one.
These are our ten best free reverb VSTs for every type of effect. Use the anchor links in this list to go directly to a partciluar plugin, or keep scrolling to check out every one.
Voxengo OldSkoolVerb: Classic digital-style reverb spaces
Mac/PC, 32/64 bit
Go To Section
OrilRiver: Comprehensive controls, low CPU, very flexible reverb
Mac/PC, 32/64 bit
Go To Section
Dragonfly Reverbs: Hall and Room reverb duo with lots of unique options
Mac/PC/Linux, VST
Go To Section
Magnus Ambience: Sturdy reverb, lots of options
Mac/PC, 32/64 bit
Go To Section
Sanford Reverb: Two-stage 'verb
PC-only, 32/64 bit
Go To Section
Cloud Seed: Special FX simmering reverb. Early/Late reflections and a unique sound
PC-only, 32/64 bit
Go To Section
TAL-Reverb-4: Simple reverb. Great instant TAL sound
Mac/PC, 32/64
Go To Section
TAL-Reverb2: Great sound, flexible TAL Reverb
Mac/PC, 32/64 bit
Go To Section
U-he Protoverb: Experimental Random Reverb. Russian roulette reverb surprise!
Mac/PC, 32/64 bit
Go To Section
Acon Digital Reverb Solo: Simple one-knob reverb with Mix. Simple, two-control plugin
Mac/PC, 32/64 bit
Go To Section
Early attempts at reverb processors might not sound quite like a real room, but they have a character all their own which has endured to modern times. OldSkoolVerb aims to get you the sound of classic reverbs in your DAW, thanks to its simple algorithms that emulate the way early stereo reverb processors used to work.
There's pre-delay, space type, delay time, width, damping, EQ, dry/wet mix onboard, with the interface encouraging you to use your ears to figure out the best sounds. Due to its attempts at emulating old-school digital reverb tones, this one's not the best to choose for transient material like drums, but it's very ncie on longer, sustained sounds like vocal or piano.
It might not look comprehensive, but OldSkoolVerb is a great free vst reverb for conjuring up classic reverb tones. It's a 32-/64-bit plugin for PC and Mac.

Since version 2, this free reverb vst now covers Mac VST/VST3 support – and it looks pretty damn nice as well! OrilRiver is a well-respected freeware reverb that can compete with tonnes of commercial products.
Start with PreDelay and Width controls to dial in the character of the reverb, choose an algorithm for both the early reflections and the reverb tail, then tweak the decay time. That's just the start of your reverb journey with OrilRiver, though, with Room Size, Diffusion, Damping, Modulation controls, EQ, and a comprehensive mixer for its various sections. The sound is near top-notch, and it's one of the best in this round-up for sure.
OrilRiver is also light on CPU, which is impressive considering the parameter set that matches or beats plenty of paid-for 'verbs. This is one of the best free VST reverbs out there.

GET THE DRAGONFLY REVERBS HERE
This pair of plugins gives you Room and Hall varieties of reverb with a choice of 25 algorithms each, to put your sounds into exactly the space you want them. 
Basic reverb controls include Size, Decay, Predelay and Width, while there's lots of potential in routing early reflections and late reflections just as you want them. Also available in the Dragonfly reverbs are Diffuse, Spin and Wander controls to help modulate the reverbs and give each their own character – helpful in customising a new reverb sound to a particular instrument.
These are essential reverb downloads – go and grab them both now!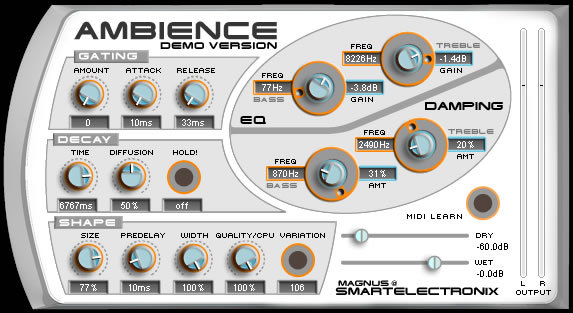 As well as the Decay section, which houses Time, Diffusion and Hold controls, there's a Sahpe module, a Damping section and an EQ here, too. There's also a gate in-built, making it one of the few free gated reverb VST plugins available to producers.
With so many controls at your disposal, Ambience is sure to give you the space you need when producing almost any type of music.
This one's a 32 and 64-bit plugin for both Mac and PC computer-based systems, and you can get it via the SmartElectronix website.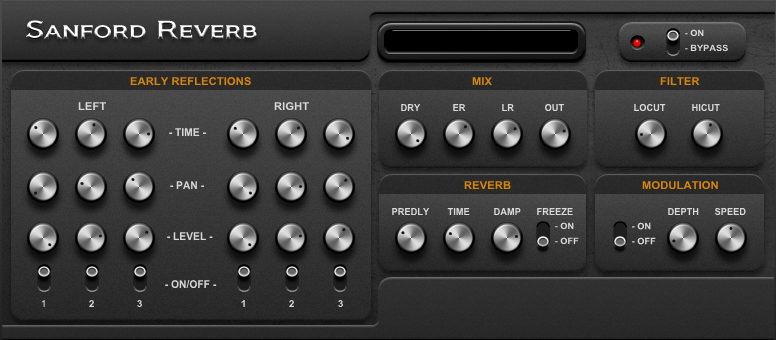 Recently updated for 64-bit systems, and running only on Windows, Sanford Reverb offers some serious control over the two stages of its reverb signal.
Early reflections – the initial 'echoes' of the reverb signal that occur before the big washy build-up – are handled on the left-hand side of the plugin, with distinct controls over timing, panning and level for six early reflection signals (three on the left, three on the right).
Next comes timing and damping for the main reverb 'late' signal, including predelay, and controls to mix the two together. There's also tail modulation onboard, plus filtering as well. All that makes this one of today's best free reverb plugins.
 

This one's no regular 'room' reverb – it's more of a special effect that can completely transform a signal. Think 80s digital reverbs, and you're getting close to Cloud Seed. Oh, and best of all, it's completely free to download!
Early and Late reflections are kept separate, similar to Sandford Reverb above, and the minimalist interface makes taking command of Cloud Seed's many controls a breeze. Cloud Seed is a 32-bit and 64-bit reverb plugin VST for Windows only.
 

This vintage-style reverb might not have many controls to tweak, but it's full of that legendary TAL quality from other freeware and commercial products. TAL-Reverb 4 is actually the reverb that's implemented in TAL-Sampler, but it's available on its own in this cross-platform free reverb plugin.
TAL-Reverb 4 has a great sound that speaks for itself, so the lack of parameters shouldn't put you off too much. Separate Wet and Dry knobs control the blend, while the reverb itself it dialled in using simple Delay and Size controls, and filtering is on-hand from both High and Low Cut knobs.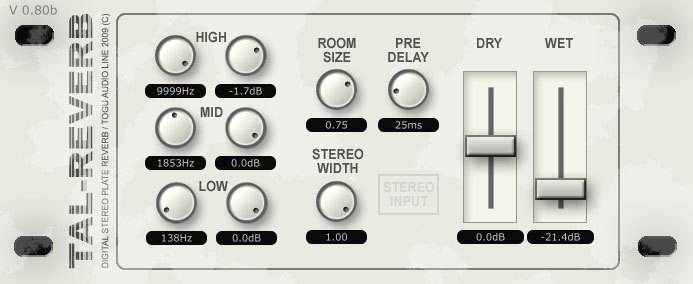 We've already covered TAL's Reverb 4 above, but TAL-Reverb 2 is by no means an 'old version' of the same thing – actually, it's a completely separate product with different algorithms, and the subject of this particular plugin (VST/AU, 32-bit/64-bit) is long reverb tones.
With Room Size, PreDelay, Stereo Width and EQ controls, TAL-Reverb2 nets you a good few controls to customise your free reverb sound, but most of the interesting work happen under the hood. This one is great for long, ambient delays that transport you to world of soundscapes.
TAL-Reverb2 is another 32-/64-bit VST/AU plugin for Mac and PC.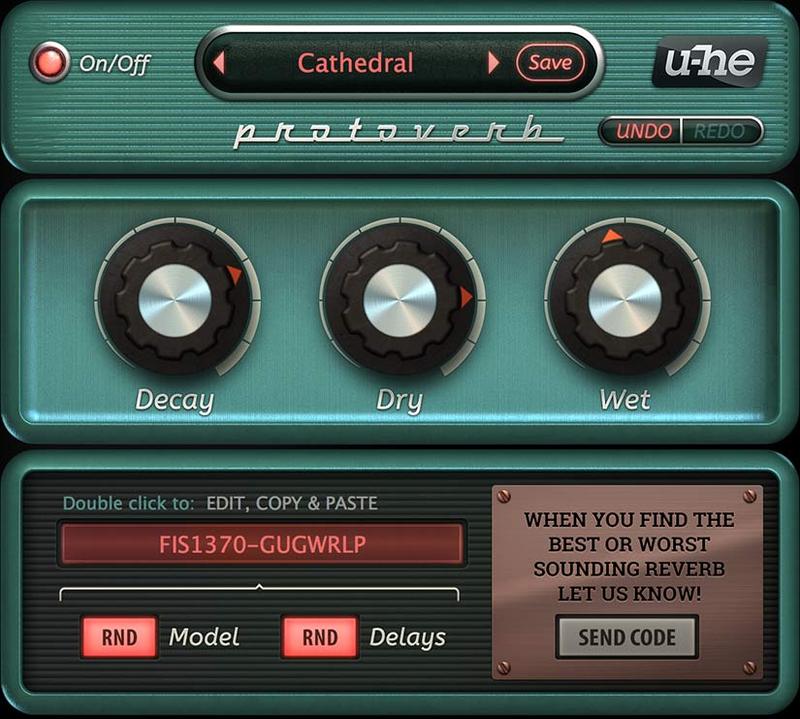 This PC/Mac reverb plugin was originally created as an experiment by developer u-he to gather feedback on what makes a reverb algorithm sound great. The idea was that you randomize the Model and Delays algorithms until you find something good and unique, and you send the code that represents them to u-he to give your feedback.
Despite it being an experiment, it's intended to give you excellent reverb tones out of the box, and experimental ones at that, meaning that this is a great way to get some interesting, new and cool reverbs. You've also got Decay, Dry and Wet controls to customise the sound a little more.
Now that the experiment's over, Protoverb is still available from u-he's website. It's  32/64-bit plugin in VST/AU formats.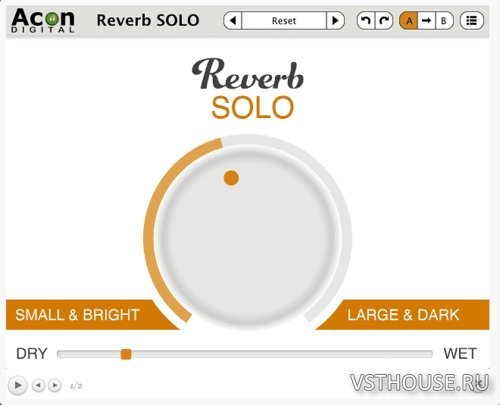 Sometimes you don't want to dial in a spaceship full of controls to get a reverb. Sometimes you need results far quicker, and fortunately, one of the simplest free reverb plugins is here to help you out.
Reverb Solo contains a complex reverb algorithm and just a single dial to change the tone between two extremes – Small & Bright and Large & Dark. There's also a Mix control onboard to use it on a bus or as an insert.
Although it's not available on the Acon Digital's website, you can grab this one, coincidentally, from reverb.com.

Check out Loopmasters for the latest sounds, loops and samples