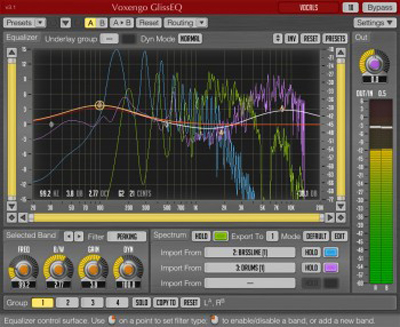 Voxengo Plugins Review – Mastering With Voxengo Plugins
Mastering on a budget – Mastering Tips
I have recently purchased some separate plugins for mastering.
I really rate the Voxengo plugins for those on a budget, although they are not the most visually appealing plugins, they certainly sound amazing. Most are less than $100 each.
Voxengo Gliss Eq is a great for adding a little eq over the mix buss – a little tape saturation from Voxengo's  gives the digital signal a great analogue feel.
I use Voxengo's brickwall limiter last in the chain to use some gain reduction on the track to make it nice and loud ready for the club. Around -1db to -3db gain reduction is usually more than enough, remembering we still want to keep some of the dynamic range.
The Voxengo Elephant brickwall limiter has been rated as one of the best, with some people even rating it better than the much more expensive Waves L2 & L3 plugins saying it is very transparent and does not colour your sound in any way -  which some say the Waves plugins do.
For more info on these plugins please go to http://www.voxengo.com/products/
Voxengo Plugins Review and Mastering Tip -
Baz Type 1