It's the synthesizer that defined a generation of music producers and spawned entire genres in its wake. Native Instruments' Massive (VST/AU) may have its own spiritual successor in the form of 2019's Massive X, but it's outlived many other softsynths that came after it from other developers. We fully expect for the legend to live on.
Over the years, we've published thousands of presets for Massive, from some of the best patch designers out there. As a mark of historic record, it's time to run down the best, and best value, packs for NI Massive, in NMSV format.
Whether you're looking for trap presets, future bass modulation sequences, or now-classic dubstep sounds, wobs and aggressive basses, these Massive libraries prove that this synth is still standing, with its incredible sound and a way of thinking of synthesis that changed music forever – here are some of the sounds that contributed.
---
Industrial Massive
91 Massive Presets // Industrial Strength // £17.95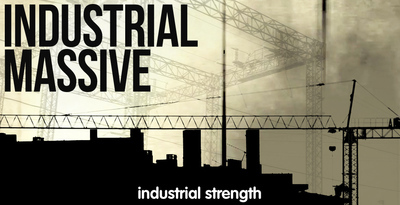 Coming from sample creator Industrial Strength, this pack exists only for Massive, and gives you that dark, gritty industrial sound for NI's synth. These sounds will slot usefully into bass music, techno, hardcore, drum & bass, rawstyle and so on.
Across the 91 sounds, you get arps, basses, FX, punches, pads and more, including 36 kick drums. At £17.95, it's a great option for anyone who's going for a dystopian, urban setting.
---
Massive Modulations
70 Massive Presets // Push Button Bang // £19.95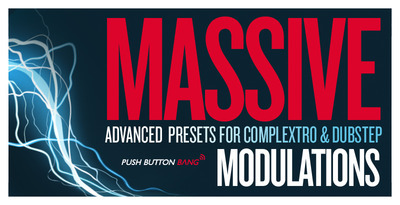 This pack is focused on animation – one of the talents that helped Massive conquer a generation of genres and producers thanks to easy even way to route modulation and shape the paths and movements that define it.
In this particular booster pack, you get 70 'Playable' modulation sequence presets, which could be just the thing if your oscillator and filter design is on-point but you're just craving a little more movement in your musical life. Developer Push Button Bang have stocked this pack with 30 bass-centric sequence modulations, 16 lead sequence modulations and more, for MAssive version 1.3 and upwards.
---
Massive Presets Bundle
475 Massive Presets // UNDRGRND Sounds // £36.95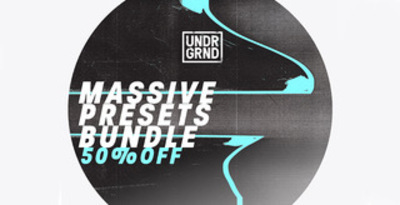 £36.95 might sound a little steep, but considering that you get 475 patches for NI's legendary supersynth – made out of five packs by UNDRGRND Sounds – the value for money is already hard to beat here, and that's not to mention the MIDI files that come loaded with them.
The packs in question include Classic Massive Chords, Bassism, Dark & Heavy Bass Presets, Deep House Presets, and Massive Modular Presets, which are available individually too, of course.
---
EDM Massive: Leads Bass & FX
84 Massive Presets // Industrial Strength // £14.95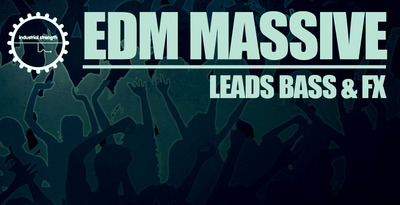 This pack of EDM-centric sounds will be enough to give Massive some extra stock, catering for that headlining mainroom sound. Created by the French sound designer Floxy, the main part of this pack consists of 51 .nmsv files, and there are a bonus 33 more Industrial Strength Massive patches thrown in there as well.
For that brash, upfront, digital but hard-hitting sound, this pack full of lead, bass and riser sounds will be the perfect fodder for your tunes.
---
Vantage Massive Ambient Presets
60 Massive Presets // ModeAudio // £13.95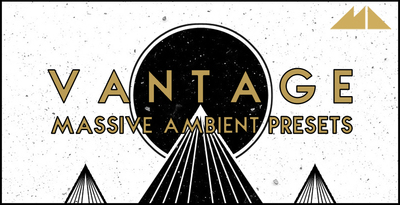 These 60 preset by ModeAudio for Massive are tweaked to perfection for anyone looking for calm, ambient tones from NI's synth. While ambient isn't a genre we often associate with Massive, the complex, moving modulation sources can also be slowed down to generate scenic, complex and evolving tones, and ModeAudio have taken full advantage of this idea for this pack.
---
Chiptune Massive
70 Massive Presets // Industrial Strength // £14.95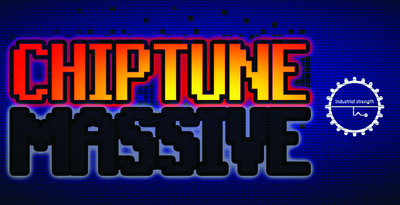 Another specialised pack by the folks at Industrial Strength, who clearly know Massive very well, this pack focuses on bit-reduced sounds with 70 Massive presets, taking in aggressive basses and bit-reduced leads and runs.
There's also plenty of accompanying audio available in the Main ZIP Pack – for an extra £24.95, you can grab yourself drums, bass loops, lasers, Speak n Spell vocals, percussion, and plenty of other hits and loops that fit in perfectly with the chiptune theme.
---
Power House Ultra Pack
60 Massive Presets // Singomakers // £9.95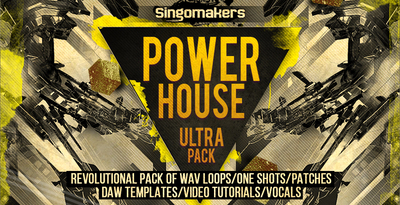 Available in a wide variety of formats including Ableton, Apple Loops, Spire, Serum, Audio and all types together (the Massive patches in the collection are available as a separate purchase for £9.95), this ultra pack of house building blocks lays down a ton of sounds for NI's synth.
The complete collection of Power House Ultra Pack is available for £39.95 and contains 2.56GB of audio, MIDI, loops and hits.
---
Future Bass for Massive
64 Massive Presets // Resonance Sound // £17.95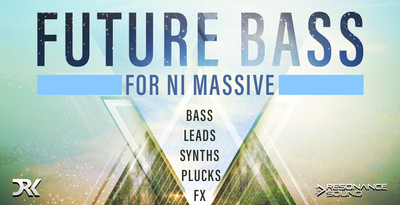 64 NMSV presets and 50 MIDI files for NI's softsynth, all the a Future Bass tinge for getting hard-hitting, solid sounds. In this pack, you get 11 of the all-important bass sounds, 18 leads and 19 plucks, 4 FX patches, 6 pads and 6 general synth sounds. Macros have been set up to make easier overall control of what makes each patch special.
---
Subground NI Massive
64 Massive Presets // Industrial Strength // £14.95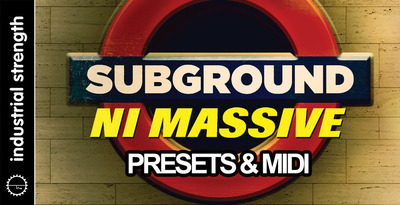 The aggressive stylings of subground go into your copy of Massive with this release, providing presets that cut through the mix in rawstyle, hardstyle or big room tracks. The focus here is on raucous, grimy, bitcrushed sounds, with 10 basses, 10 FX, 22 leads, 8 plucks and 5 synths included, as well as 34 MIDI files to get your groove on with.
---
Neuro Drum & Bass Massive Presets
77 Massive Presets // Loopmasters // £14.95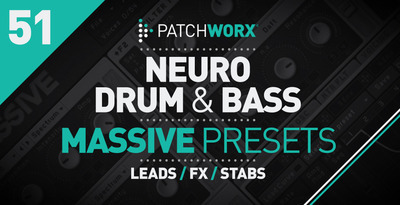 Part of our Patchworx series – number 51, to be precise – this pack shows off the best of Massive (versions 1.4 and above) through both presets (77 of them) and song kits, which help you give the sounds some context with the included MIDI files, and WAV loops.
There are arps, atmospheres, and pads, but the headline patches here are the 26 basses (and 14 midrange basses), and 18 deep FX sounds.
---
Ultimate Bass House
91 Massive Presets // Rankin Audio // £14.95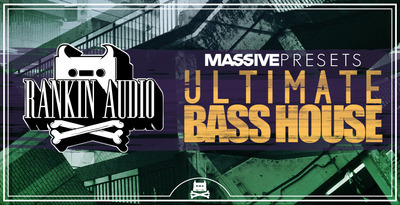 Taking a look at the heavier sounds of more modern house music, this pack from Rankin Audio has you covered on practically every front: there's 10 high-quality Reese bass presets, as well as 10 clean-and-standard bass – not too dirty.
Moving on, there are 10 stabs and 5 'LFO Bass' entries in this pack, acting together to give the option of more movement in your patches. 7 FX and 16 Donk patches fill things in a little more, and the Ruff Bass patches bring in more variation in the bass house style.
In addition, you'll find 10 warps, 10 pads and 3 subs – it's all you need to inject a little more personality into your tracks, and the price is absolutely right.
---
Trap Massive
50 Massive Presets // Industrial Strength // £13.95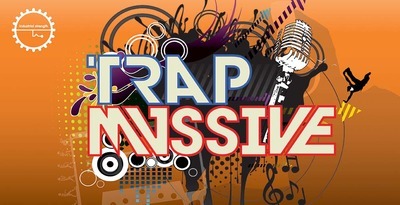 Capturing the essence of trap in fifty patches – spanning subs, FX, horns, organs, 7 basses, 20 leads and more – this pack is also available as a larger collection of vocals and Traktor Remix Decks, or anything individually, for up to £23.95
Trap might not be the first genre you associate with NI's Massive, but due to its flexible architecture, it can turn its circuits to anything. Check out the audio previews to hear it in action.
---
Complextro & Dubstep Vol. 5 - Massive Presets
60 Massive Presets // Freaky Loops // £19.95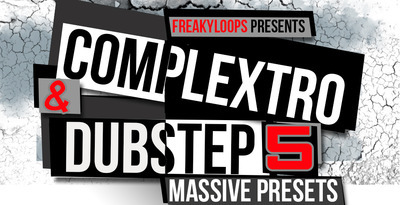 Coming from sample label Freaky Loops, this pack of 60 patches in .nmsv format contains 35 basses – the main even in complextro and dubstep, of course – 11 general synth sounds, 13 lead patches, and a single solitary FX sample.
Freaky Loops say that the pack is styled after the music and production of Skrillex, Zomboy, Knife Party, Skism, Kill the Noise and similar artists. For £19.95, the price is steep, but the quality of the patches, as well as their fit into these particular genres, aren't to be overlooked.
---
Epic Massive Presets
101 Massive Presets // Zenhiser // £15.95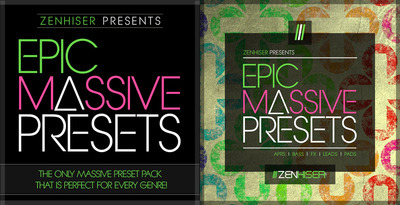 101 Dalmations wasn't an epic film, but these 101 Epic Massive Presets are ready to bring the house down with 101 ways to spice up any EDM, taking it to another level of sound design prowess.
6 Arp and Motion presets make great use of Massive modulation, with animated sequences and moving patterns. As for actual oscillator-driven sounds, you get 10 FX, 6 Pads, 36 Basses, 23 Leads and 20 Synth/Keys presets to take things further. The quality on-show here from Zenhiser is pretty huge, and the quantity makes it hard to say no to the large, upfront and polished sounds.
---
Heavy Bass Artillery
60 Massive Presets // Famous Audio // £19.95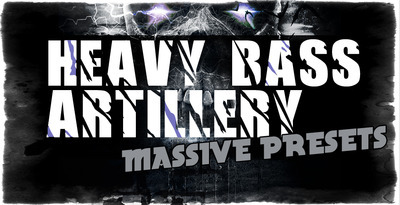 The price may be on the high side, but when you need rip-roaring, high-rate bass firefights in your tunes and you need them now, this pack could solve all your problems. Containing 37 hugely high-impact full-range bass sounds, plus 11 monophonic lead sounds, 7 FX and 5 'synth' patches, this one's got it where it counts: in its solid low-end.
---
Extreme Massive
119 Massive Presets // Industrial Strength // £14.95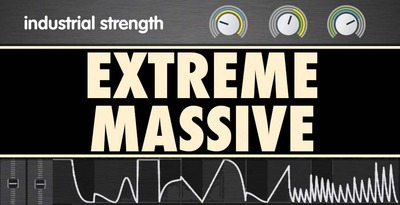 This pack of patches for Massive contains 73 patches, and a further 46 'Extreme' patches, meaning that if you need to conjure up the biggest, baddest sounds ever made, there are screaming, aggressive sounds just a click away, as well as a bunch of extra 'standard' fodder for NI's Massive. Whatever the delineation between the two types of preset in this pack, it's great value for money with 119 patches for £14.95.