Learn how to timestretch and pitcshift in your DAW, with third part plugins, or with standalone software.  Timestretching and Pitchshifting are two incredibly useful creative tools for music and audio producers.  Most DAWs have some sort of basic time and pitch modification tools built-in.
However, we recommend you broaden your toolbox, giving you more colour choices in your sonic palette. You might want to try 3rd party plugins and software as many of these are purpose-built for pitch or time modification, so they often have more advanced features than, with better-sounding algorithms. These can help speed up and enhance your workflow, giving you more possibilities for sound design.
Standalone Software
This section contains time-stretching and pitch-shifting software that can work as standalone software, not requiring a DAW to work with. Some also work as plugins to use in your DAW.
Melodyne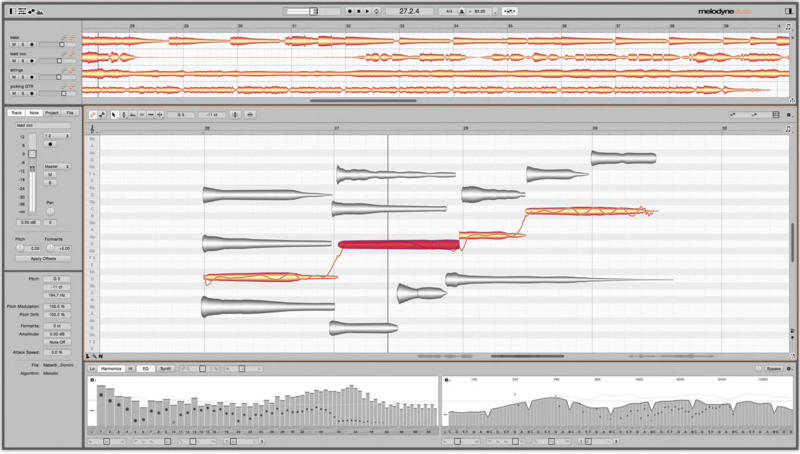 Melodyne is an advanced piece of software designed for pitch correction and auto-tune. It gives you detailed control over pitches, and lets you adjust performances in pitch and time. It can also correct pitch drift/modulation to lock wavering pitches to the right note. Super useful for correcting vocals, or modifying the pitches of sounds, and the visual display makes it easy to spot pitch inconsistencies. 
Loopcloud
Developer - Starts at £5.99 /mo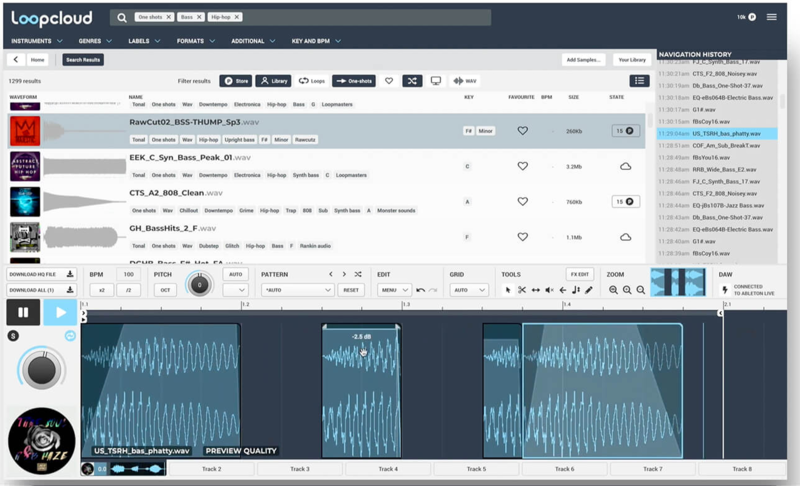 As well as being a great platform to find new sounds, Loopcloud has built in time and pitch controls, allowing you to stretch or repitch your sample before you download it. A great thing about Loopcloud is that it has the ability to match the tempo of loops to the BPM of your track, and change the pitch of samples so they are in key. This saves a lot of time as you won't have to fiddle around matching it in your DAW. Loopcloud works as standalone software, or even better, you can use it as a plugin in your DAW to drag and drop sounds into your session. It includes Loopcloud Drum and Loopcloud Play which expand the features and integration of the platform.
Photosounder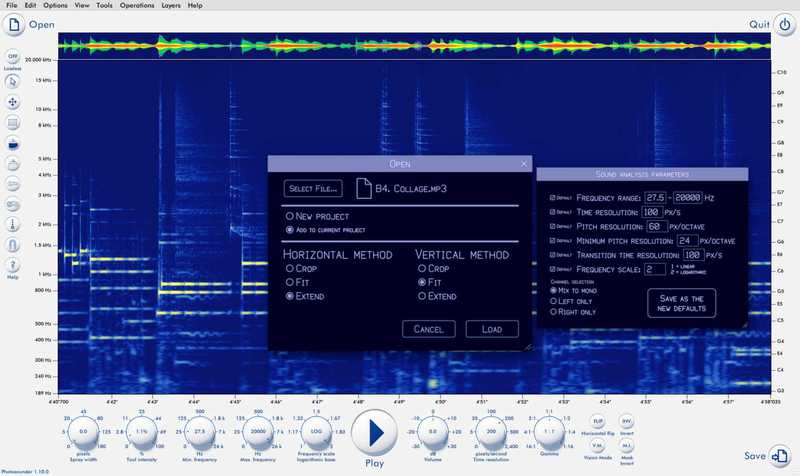 Whilst not specifically designed for time/pitch modification in mind. This exciting and unusual software is an image based sound design program. It's a cross between photoshop / microsoft paint and a synthesizer. It converts images to sound and vice versa. You can stretch the time and pitch of a sound by resizing its associated image.
Paulstretch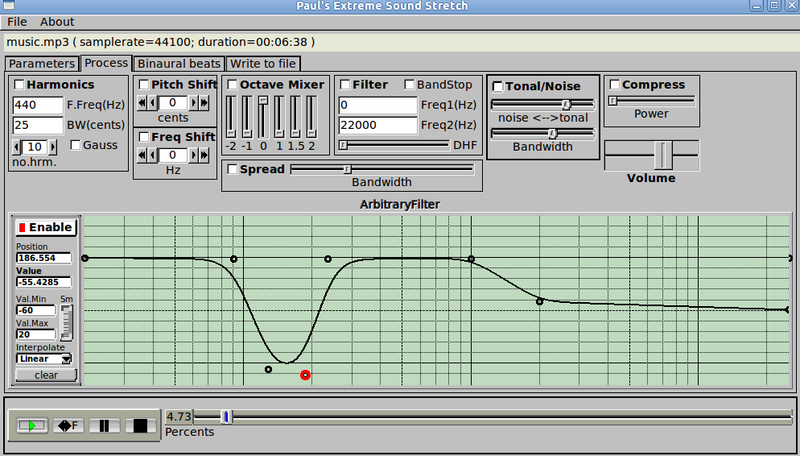 Paulstretch is a popular software for timestretching as it's designed for extreme stretching, which can elongate sounds much further than most other software. It's known for having one of the most transparent stretching algorithms and can turn any sound into a long evolving textural soundscapes.. Also check out PaulXStretch, the free spiritual successor to Paulstretch.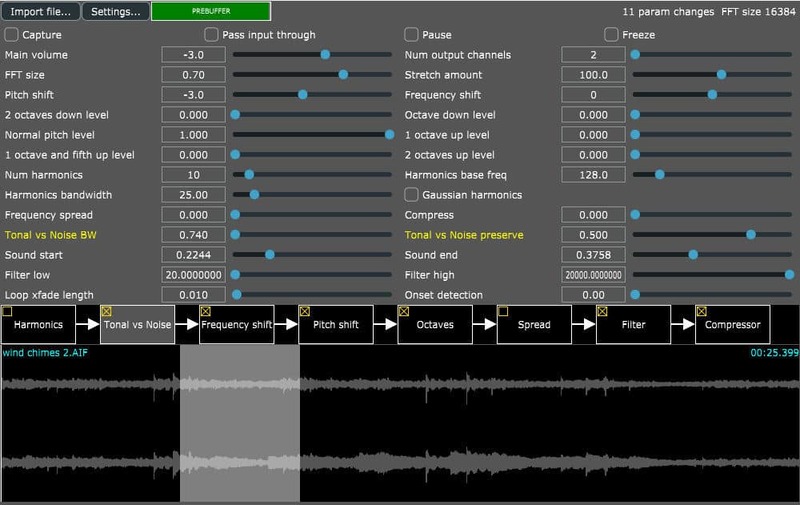 Plugins
This section contains timestretching and pitchshifting plugins for you to use within your DAW.
Pitch 'n Time Pro
Serato - Pro = £660/ $799.  LE = £330/$399.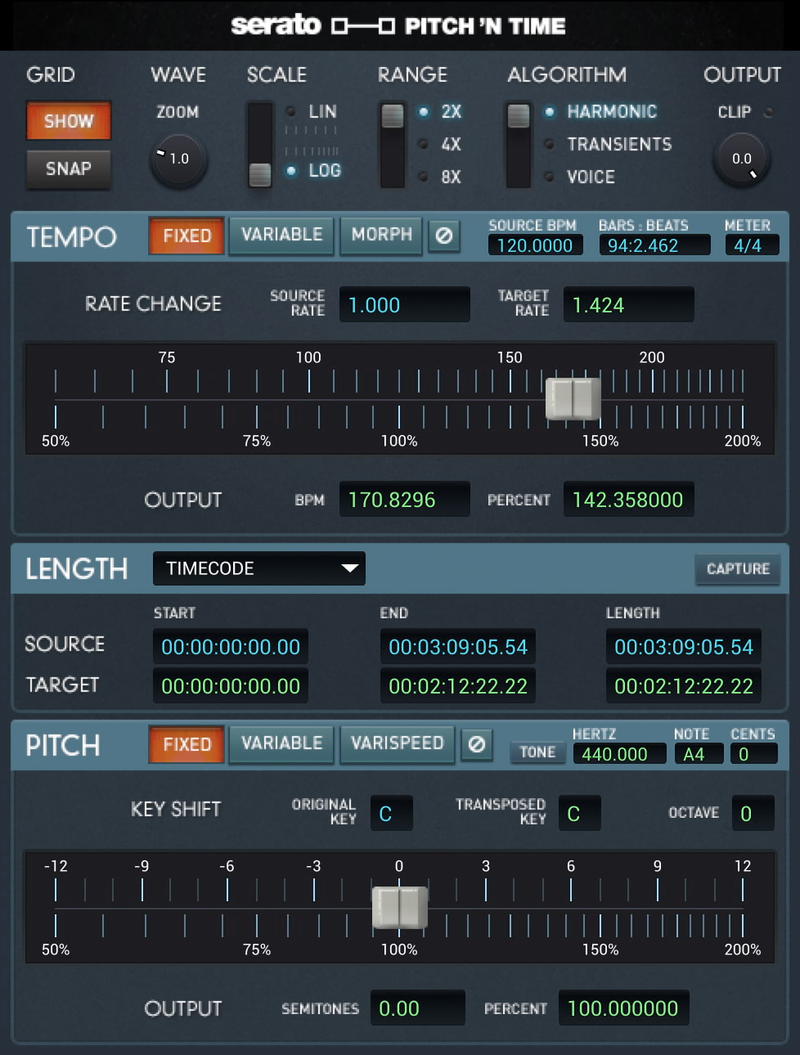 Pitch 'n Time is a plugin from DJ tools developer Serato. Pitch 'n Time Pro is a high quality time-stretching and pitch-shifting plugin that boasts some of the cleanest independent time/pitch processing. It offers time stretching ratios between 1/8 speed to x8, independent of pitch. It has a pitch shifting function of up to 36 semitones independent of tempo. This could be a super powerful tool for producers and DJs alike, who need tools to remix tracks without mangling the sound too much. There is a Pro or Lite version depending on your budget.
SoundShifter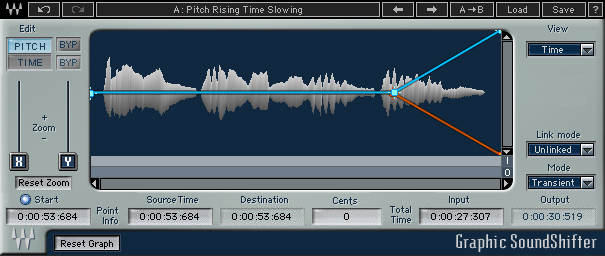 This is a handy multifunction plugin that processes pitch and time. It lets you change the key, tempo, or length of a sound, and modulate the pitch-time continuum. It has 4 Modes: Punchy, Smooth, Transient and Sync. It has controls for Pitch, Interval, Frequency, Time, Tempo, Bars, Samples, feet & frames. Giving you a variety of options to modify your sounds.
H3000 Factory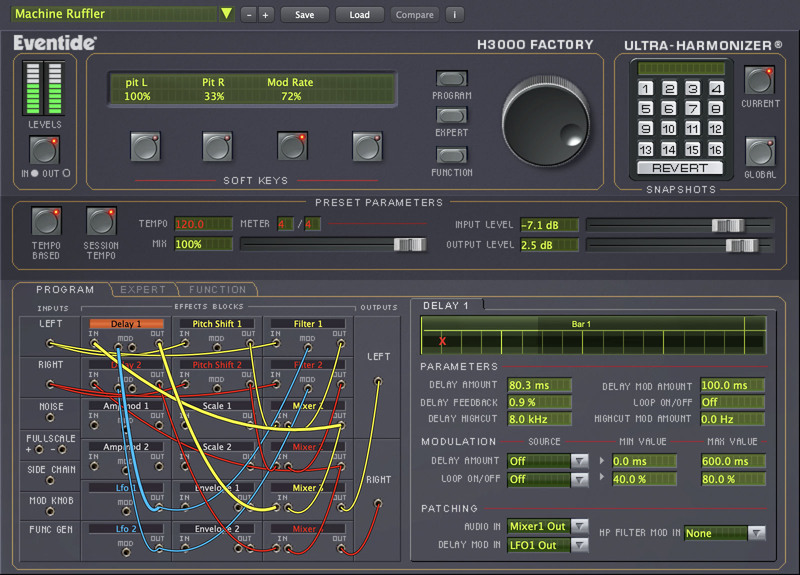 The H3000 Factory plugin is a digital recreation of algorithms from the original H3000 hardware unit. The plugin contains a modular interface for patching together up to 18 effects blocks to create an unlimited number of custom pitch effects. The effects modules include delays, pitch shifters, filters, mixers, VCAs, LFOs, envelope generators and more. It also has Tempo Sync functions to keep it in time with your projects BPM. It includes over 100 presets that were found on the original unit, many of which would have been used on a number of classic hits from the past.
Quadravox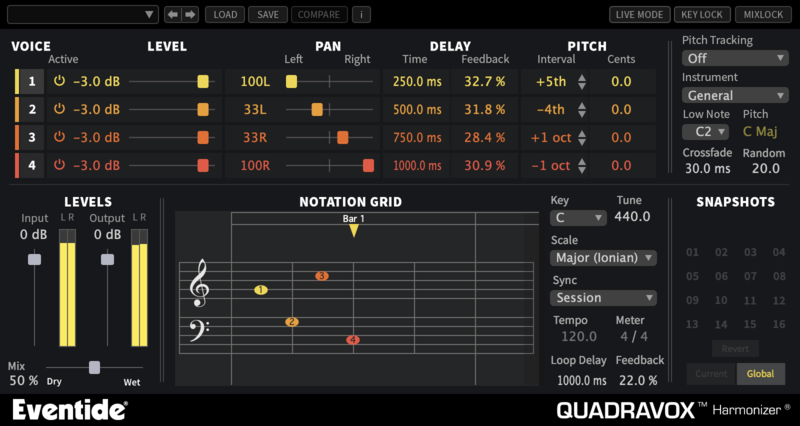 Eventide are a company historically known for their hardware pitch shifters. Quadravox captures some of this magic into plugin form, offering a 4-voice pitch shifting delay tool. Not only does it let you pitch your sounds to 4 independent places, creating rich chords and harmonies, but it also has controls for delay time and stereo placement, so you can make complex and grooving pitched delays, stretching the width of sounds to new levels. It has a notation grid to display how much you are pitching each voice with representation of the delay time, and controls for Dry/Wet for mixing functionality. It has different algorithms geared towards different instrument source sounds, such as vocals, keys, strings, drums. It also has scale controls so you can ensure that the pitches don't clash with your music, and many presets for instant inspiration.
Discord4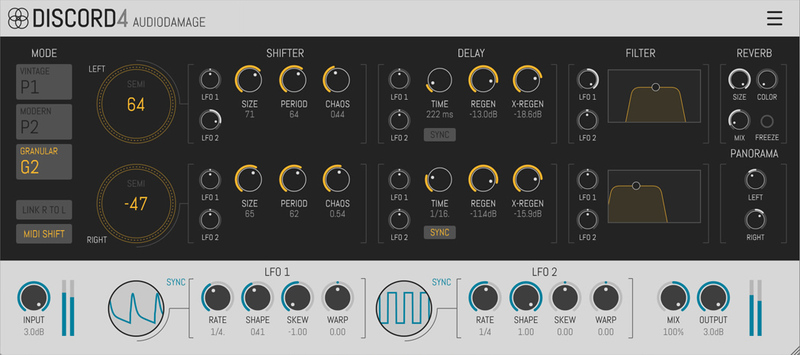 Discord4 is an evolution of Audio Damage's faithful Discord Stereo Pitch Shifter, originally modeled on the Eventide H910 Hardware unit. This plugin has 3 modes: Vintage, Clean, and Granular. Each mode is designed to work with specific types of source material. There are controls for Pitch, Buffer Size, Delay, Reverb, Modulation and MIDI note control. It also features 2 independent stereo channels so each side of the audio can be processed separately to create panoramic stereo widening. 
Pitch Monster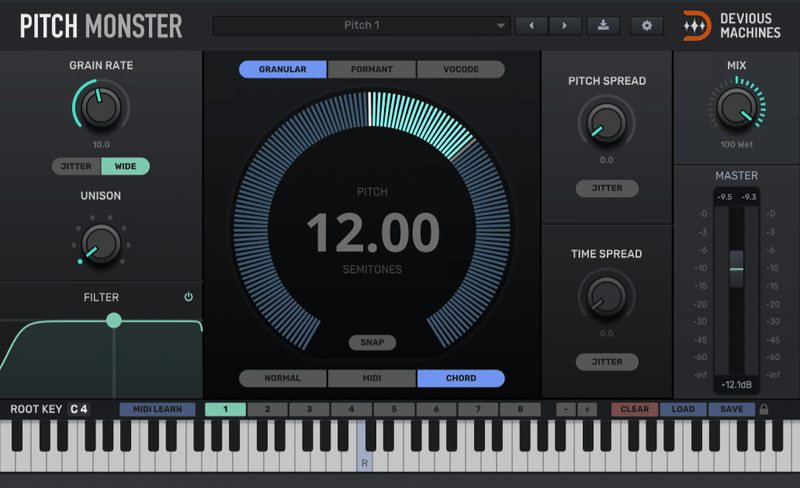 This crazy plugin has a 64 voice granular pitch shifting engine. It lets you take a mono sound and turn it into an enormous polyphonic orchestra. It has a 6 octave shift range, with options for granular, formant-shifting or vocoder engines. Realtime MIDI control lets you shift to the keys of your choice. You can also save chords for fast recall, alongside the hundreds of included presets. It also has a spread mode to create wide stereo images
Elastique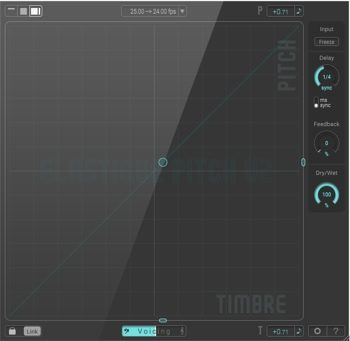 Elastique is a real-time pitchshifting plugin, with a simple but effective interface. It revolves around an XY chart control for pitch and timbre. With additional controls for Delay, Feedback Dry/Wet and a Freeze switch. Great for creating layered harmonies or trippy warping pitch delay effects. The design of the interfaces enables you to quickly create melodies thanks to the pitch snapping function, ensuring the shifting stays in tune.
Auto-Tune Pro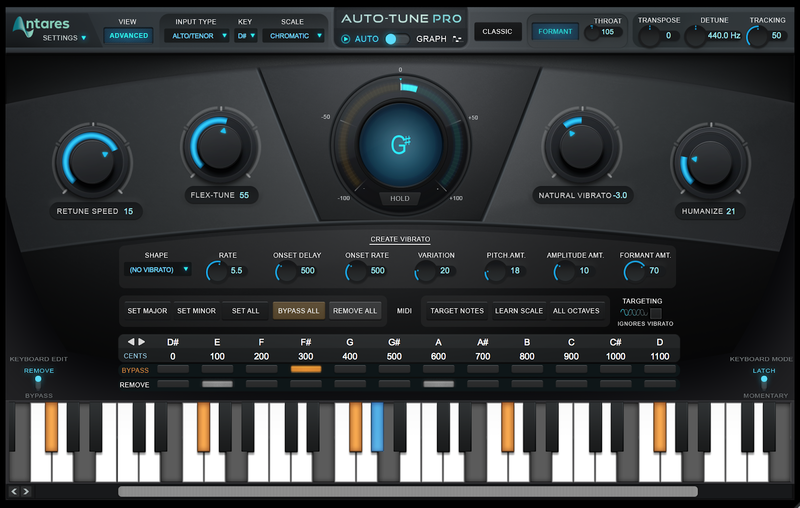 Auto-Tune Pro is an iconic plugging from the legends of Auto-Tune: Antares. This is one of the best auto-tune plugins going (check our list here: Top Free Auto-Tune-style Plugins), and has many presets that you will recognise from hit tracks. Auto-Tune pro has an incredible amount of features with deep customisation options. The three main modes are Auto Mode, real-time tuning and effects, Graph Mode, for detailed manual pitch and time editing, and Auto-Key, for automatic key and scale detection. Other modes include: Classic, Flex-Tune, Humanize, Throat Modeling, Formant Correction, Low-Latency. If the price tag is too high, there are more affordable versions: Auto-Tune Artist, Auto-Tune Access, Auto-Tune EFX+.
Little Alterboy

Little Alterboy is a creative and musical pitch effect from plugin developers Soundtoys, who's developers have roots in creating early iconic pitch shifting hardware, the Eventide H3000. With a simple interface, Little Alterboy is a flexible plugin with 3 processing algorithms and controls for Pitch (+/- 1oct) Formant, Drive and Mix. This plugin will give your sounds a warm analog and retro feel, not only changing the pitch of sounds but also adding optional crunchy saturation.
In Your DAW
Many DAWs have their own in-built time and pitch modification tools. Some DAWs like Ableton Live are more geared towards using these features, so they are easier to access and more flexible.  DAW's will have their own specific way to activate pitchshifting and timestretching, check the user manual if you're struggling to find it. 
Ableton Live
Ableton Live - Starts at £79 (Lite)
Ableton Live is a DAW that was designed with electronic musicians, beatmakers and DJs in mind, so its pitchshifting and timestretching tools are built into the interface for maximum efficiency and simplicity. There are a few different ways to timestretch within Live, and the pitch tools are handily located on the sample panel, with It has several different algorithms that will work better with different source material.
Logic Pro X - Flex Time
Flex time is a feature in logic that allows you to timestretch audio without distorting the sound or changing its pitch.There are multiple flextime settings to choose from.
Pro Tools - Stretch
Avid - £499 Perpetual or £30/mo Subscription
Pro Tools provides a few different time stretch algorithms, most are relatively transparent sounding. It also gives you warp marker control, to set multiple stretch points in a single clip, sometimes called elastic audio.
Reaper
Reaper has both timestretching and pitchshifting features. Timestretching in Reaper is a fast process and can be performed directly in the timeline window.