Ohmicide:Melohman is just one of the best software distortions ever made. It's common knowledge that a great distorted sound changes everything and it's exactly what Ohmicide:Melohman delivers. Ohmicide Distortion can work with up to 4 frequency bands, all four bands having their own independent knobs for Noise Gate, Dynamics, Distortion, Feedback Generator and all mixing abilities, in addition of a twist of pre- and post-processing (distortion input, high shelf output and more). You'll be able to listen to the Ohmicide distortion on the albums of artists such as Chemical Brothers, Prodigy, Bjork, David Bowie, Napalm Death, The Killers, among many others.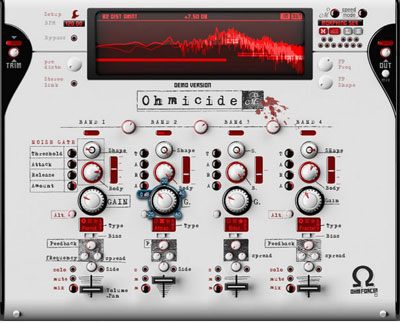 Below is a tutorial giving an overview on how the Ohmicide distortion can be used far beyond the electric guitar/bass world. Use it creatively to bring harmonics up on synth loops/lines, thrash vocals and/our give them attitude, mangle beats and much more…
Here is a more in-depth walk though of Ohmicide Distortion going though each of the plugins parameters and functions. The video also includes audio demo's of some of the presets on a drum break.
Synchronice runs through the Ohmicide Distortion's possibilities including the advantages of being able to distort with multi band the feedback and pre distortion functions on a simple Saw tooth from Massive.
.
For further info, free demo trail and purchase check out the Ohmicide product page.