The Best 10 Free Piano VST Plugins for PC/Mac
Whether you just want to pull up a simple sound that works straight from the patch, or you're looking for a sophisticated recreation of a concert grand to bake into a complex production, there are a great many free piano VST and AU instruments out to meet your needs.
There's a diverse selection of both good and bad virtual ivories out there, but we've sorted through them to bring you the ultimate list of the very best free piano plugins in the world right now. Every single one works cross-platform on both PC and Mac machines.
---
1. Versilian Upright No. 1
Recorded at the Berklee College of Music, and packaged into a lightweight package for Mac or PC and for the full version of Kontakt, this piano could well set the standard in realistic piano VST instruments.
Upright No. 1 features three velocity layers and is sampled in round-robin, meaning there are multiple samples for the same note to reduce repetition. Despite the layers of sampling on show here, it won't tax the hard drive as much as some virtual pianos, requiring about 250MB.
This particular piano has been recorded with two wide, close mics, and offers Reverb, Panning and Volume controls, alongside Attack, Decay, Sustain and Release envelope settings. You can grab it at the Versilian Studios website.
---
2. Spitfire Audio Soft Piano
Released as part of Spitfire's epic LABS project, which offers simple but hellishly well-sampled instruments, the Soft Piano plugin offers the character of a low-key, dampened piano. As the sampling's been done by the experts at Spitfire, the nuance and feeling of a piano not going at full blast has been distilled into a very special instrument.
As the sampling behind Soft Piano is very deep, there are only three controls: Expression (far-left) can be thought of as a volume control, the middle slider determines the dynamic response (ie, how much Soft Piano responds to your MIDI velocity), and the right-hand knob provides reverb.
You can get Soft Piano now, for free, from the LABS website, along with other free plugins. It runs in your DAW as a VST/AU/AAX plugin.
---
3. Keyzone Classic
If you're looking for a sampled VST piano and electric piano instrument with a little more control, Keyzone Classic could be the one for you. Starting off with its four envelope controls – Attack, Decay, Sustain and Release – which change the sound's character either slightly or wildly, depending on your preference.
This free VST and AU instrument gives you a choice of five sampled pianos, from the lieks of Steinway, Yamaha, Fender and more. Keyzone Classic also has a reverb mix knob, a Detune control, Velocity Curve settings, LFO Rate and Depth, and a Pan control.
You can grab it now from the BitSonic website.
---
4. SampleScience Room Piano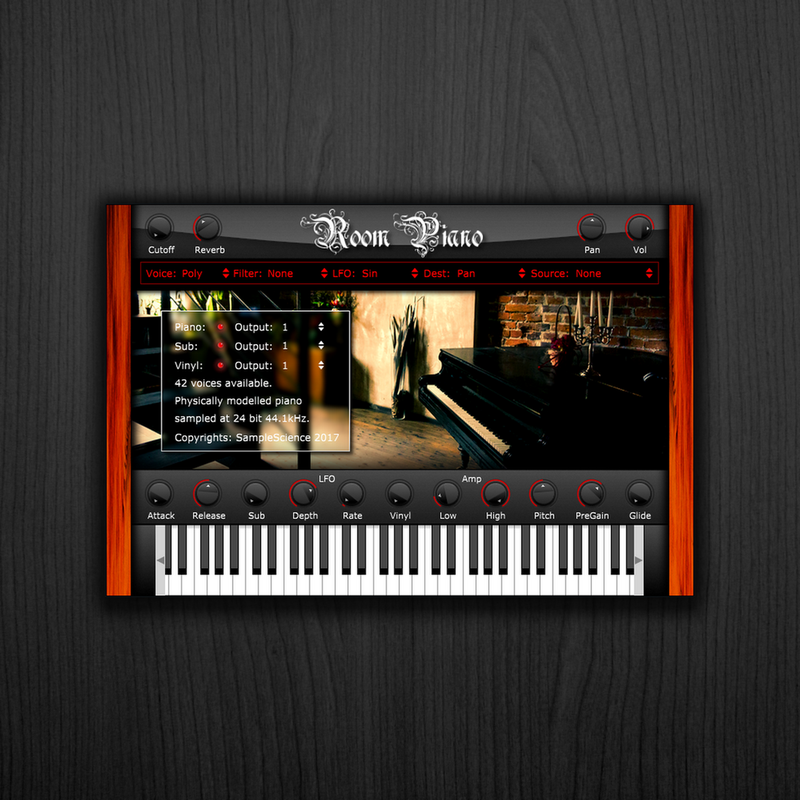 One of the best piano VST instruments – and a nice and simple one at that – comes from SampleScience, the Canadian company behind a huge range of instruments. This particular free VST piano has been physically modelled, meaning the physics of the hammers, strings and soundboard have been recreated in code.
The result is an impressive mixture of great sound quality and low computer resource consumption. Room Piano has Attack, Release and Sub levels, a routable LFO with Rate and Depth, Amp settings, Pitch, Pre-Gain and Glide.
Room Piano runs as a VST or AU plugin and is available from the SampleScience website.
---
5. RDG Audio Free Piano
After years of sampling pianos and other instruments, RDG decided to launch a free grand piano VST to showcase their talents. Not only does this plugin give you AU and VST pianoforte sounds – it also provides Pad and String sounds to layer into the patch, adding a dose of synth and orchestra, should you choose to engage them.
There's panning, volume, low-pass filter, reverb and envelope controls, as well as those three crucial sound selection sliders: Piano, String and Pad Volumes. You can grab this one from the RDG Audio website.
---
6. BigCat Instruments Skerratt London Piano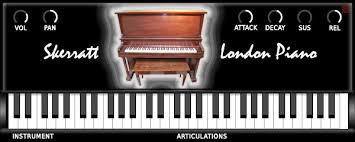 More on the honky tonk side of piano instruments, this piano VST, AU and Kontakt instrument (also available for Native Instruments' Komplete Kontrol) provides a sampled upright piano that's suitable for a right royal East End knees-up.
Cursory parameters include envelope settings (ADSR), Volume and Panning, so this one's more about the quality and character of the included samples.
You can grab Sherratt London Piano from the BigCat Instruments website, alongside their other free piano instrument, Iowa Piano, again available in VST, AU and Kontakt formats.
---
7. 99Sounds Upright Piano
Based on piano samples recorded by Rudi Fiasco, Upright Piano (VST/VST3/AU) runs with six velocity layers to make things as realistic as possible.
You get simple enveloping with Attack and Release times, a Tremolo effect (more like a chorus at times, with Intensity and Speed controls), and Dampen (low-pass filter) and Reverb controls too. There's also global control over master Volume, and a separate knob that defines the loudness of the keys being released at the end of notes.
---
8. 4Front Piano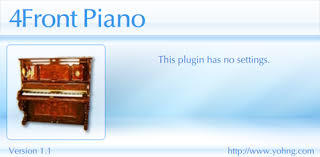 George Yohng's 4Front Piano might just be the most understated and lightweight of all free piano VSTs, clocking in at a mere 17MB on Mac (28MB on PC). It's available as an Audio Unit, and VST plugin, and an RTAS instrument for mac as well.
The 4Front interface doesn't give much away in terms of control, but the sound is fairly impressive. If you need a no-nonsense piano VST for no money, and with no added fuss, you could very well make it this one. Grab it from http://www.yohng.com/software/piano.html.
---
9. Alex Holm Salamander Grand Piano 3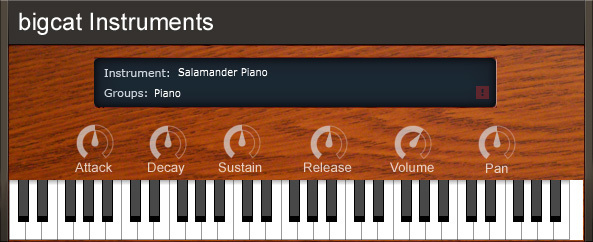 Another entry from BigCat Instruments, the maker of the above Skerratt London Piano and Iowa Piano comes in with another characterful sampled piano, released under his own name. This one comes packaged in the SoundFont format to load into VST and AU samplers. This means that it's available to Linux users, and that sonic tweaking will be dependent on your sampler's actual capabilities. You can get it from https://musical-artifacts.com/artifacts/3
---
10. Spitfire Audio LABS Pianos
We already mentioned Spitfire's LABS series for their excellent Soft Piano instrument at the top of this list, but it's well worth mentioning the ever increasing number of entries to the LABS series.
Currently, there's also an Electric Piano and a Modular Piano instrument, and Music Box one too, but new LABS plugins are being released frequently, so there's the potential for plenty more free VST and AU piano instruments to drop.