How to Get Free Samples, Loops and Sounds
There's so much royalty-free music out there that it can sometimes get overwhelming. With a wide variety of quality and quantity coming from distributors all over the internet, how can you be sure you know what you're getting? And with all the labels, genres, instruments and beats you might want to invest in, how can you get a good taste for what will give you the most value?
At Loopmasters, we've published millions of samples, and it's only natural that some of them will be available for free. But with the sheer volume of great-quality packs, patches and sounds out there, how can you track down the free stuff and come out smiling?
We're about to show you how, with our guide to where to find our own freebies.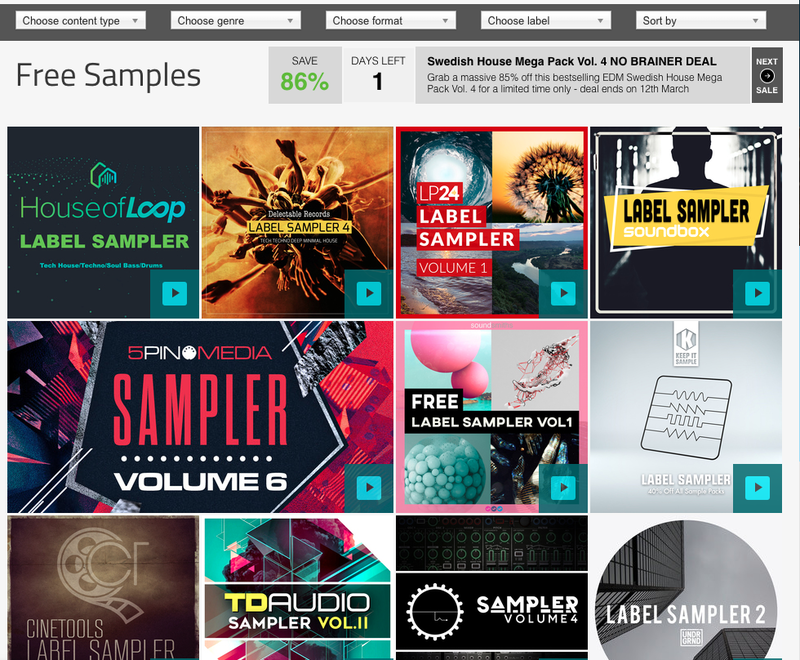 Over at our Label Samplers page, you'll find gigabytes of free loops, hits, musical clips, presets and patches from a variety of labels who want to show you how good they are.
This page is regularly updated with new packs, and you can browse by content type, genre, format and more categories, so keep checking back to find any new stuff that's been added.
A £1 bandwidth charge does apply to each download to cover our costs, but the samples themselves are free, offered by the individual labels using us as a distributor.
2. Loopcloud Free Weekly Content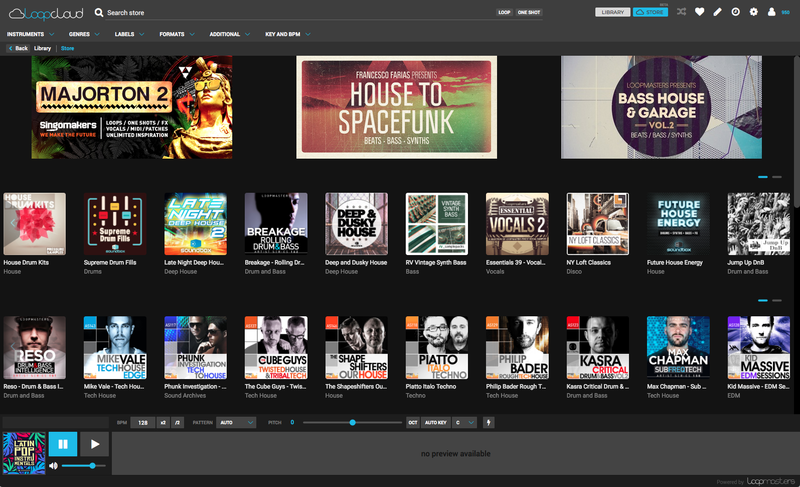 If you're not a Loopcloud user yet, why not? Loopcloud lets you browse your own library for all your samples – whether you bought them from us or not – and audition them inside your DAW in the correct key and the correct tempo when using the Loopcloud plugin at the same time.
Not only can you use Loopcloud to manage your existing samples, you can also grab more from the Store, searching by Instrument, Genre, Tempo, Key, and more, and instantly drag each into your project. Signing up to the Loopcloud Studio Plan free trial, users will receive 300 credits to spend on sounds.  
With the Loopcloud plugin (VST/AU) loaded into your DAW, and the Loopcloud app open separately on your system, simply play your project from your DAW, and select a loop or hit from the Loopcloud Library to play it back on the plugin's channel in your DAW. It will automatically time-stretch while demoing to match your project's tempo. One-shot samples will be played back repeatedly at your project's tempo. You can narrow the search down by Tempo, Key, Instrument, Genre, Format and loads more.
If you're browsing the Loopcloud Store, each sound will playback with a watermark, but this will disappear as soon as you purchase it with credits (including the 300 free credits you get for signing up to Loopcloud Studio plan). Once the item is purchased via the Store, it will also be available in your Library, and you can click and drag the actual sample out into your DAW to use immediately in your project.

If you're browsing Loopmasters and like what you see, each of our sample packs has a Taster Pack available. Taster Packs contain roughly ten of the samples drawn from that specific pack – usually lengthy loops as opposed to drum hit or one-shot FX samples, depending on the pack.
To grab the taster pack, simply navigate to the webpage for a pack, such as this one, and click Download Taster Pack in the pack page's header.
Let's say you're looking for a quick Celtic Fiddle, some quick FX Samples, or some Traditional Brazilian Percussion – all you have to do is download the taster pack to be in with a shot of finding the right sample.
5. Finding Free Samples by Genre and Format

With the ability to search the main Loopmasters site by Genre, Label, Format and so on, there's plenty to be found for no money if you know where to look. Taster Packs can be found via the main site, as mentioned above, and the ability to search for a specific genre of Taster Pack – say, Broken Beats, Brass and Woodwind, or Funk House, a choice of relevant free samples is just a few clicks away.
Similarly, if you're looking for a particular artist, use the search bar to find a taste of one of our many Producer Series packs, or those from other labels.
Loopcloud users can also narrow down the types of the free Inspiration packs given in Loopcloud by inspecting the tags for each entry, and expanding the list of available columns in the Loopcloud interface by right-clicking on a column's header. Genres, types of sound, file size and instrument type are all here, as are more specific options such as Label, Ownership, Swing and more.