Top 5 Best Vocal Acapella Sample Packs from Monster Sounds
Check out Monster Sounds
Check out more Vocal Sample Packs
Top 5 Vocal Acapella Sample Packs by Monster Sounds
1. Killer Acapellas 4
2. Scorzayzee - Hip Hop Acapellas
3. Killer Acapellas 2
4. Heavyweight G-House Rap Vocals
5. Miami Rap Vocals
These are the top 5 best vocal & acapella sample packs from Monster Sounds. these include vocal loops, vocal samples, and full vocal stems from genres including Rap, Grim, Hip Hop, Progressive House, G-House, Bass House, Trance, Dubstep, Trap and more.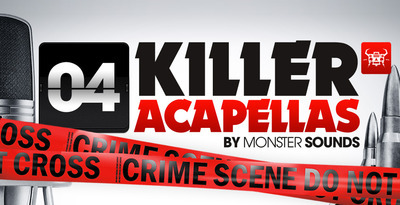 There's always a point in making your track when you want to add in something to make your tune stand out and take it to the next level, or perhaps you want to build a full vocal based song from the ground up, not just have a repeated vocal loop all the way through?
We have enlisted 2 vocalists for this pack, one Male and one Female,  both are professional singer-songwriters and are well travelled, performing live and in the studio with renowned producers, artists and written top lines for major label talent
To add more credentials to this pack the production team at Monster Sounds, who have also top-lined, produced and engineered many vocal sessions from the underground to commercial singers and rappers, including gold selling artists have left no stone unturned in the making of this pack so you can rest assured these are pro quality vocals.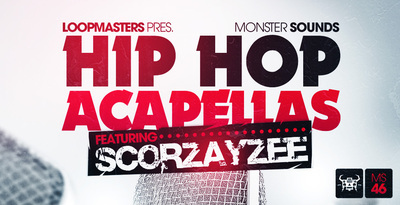 2. Scorzayzee - Hip Hop Acapellas
No one can Deny UK Hip Hop is Hot right now, after being looked over for so many years, the home-grown talented Rappers and producers are getting there due to props.
Monster Sounds have linked with one of the UK Hip Hop Scenes hardest working rappers To bring a set of Street level royalty free Hip Hop acapellas bounding into your computer showcasing a genius mixture of penmanship and vocal delivery you will love.
Nottingham born Scor-Zay Zee has been around for TIME on the UK scene, starting out in 93 getting his first plays on Westwood's legendary Radio 1 show at the age of 15, by the ripe old age of 16 Scorz and his crew `Out Da Ville' were collapsing with scene heavyweights like Vadim and The Creators.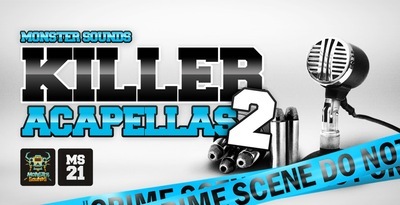 There is a multitude of different song ideas and subjects to give credible vocals with maximum flexibility for producers in all different genres. There are 4 female vocals and 4 male vocals in this pack. All vocals are suited to electronic music production, but also could be equally flipped into a more acoustic or traditional instrument based music.
The pack is made up of 8 Full songs, compromising Verse. Chorus and in some cases the bridge parts of a song, also extra harmony parts are added so it is possible to build more progressive layers as the track builds.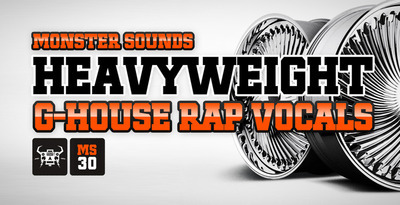 4. Heavyweight G-House Rap Vocals
Taking the swagger of U.S Rap acapellas and fusing them with the Deepest Jacking bass house tracks brings the new attitude and excitement to the house genre.
Championed by producers Amine Edge And Dance, Clek Clek Boom and Daniel Fernadez G-House has become hot property on the floor and in the Djs Playlists expanding the deep house genre to new flavours.  Monster Sounds have reached out to via its Rap underworld connections and put together a fat pack of Rap Acapellas suitable for this genre and other bass music tracks. 
These vocals are straight from the streets, raw, genuine and not for the faint hearted,  But we wanted authentic American Rappers dropping rhymes with Hip Hop SWAG not watered down or censored to keep to the original G-house Hip hop to House fusion concept.  We have bought directly to your studio the Raw heat of these talented young vocalists, royalty free and set to take your productions to the next level that only adding an authentically sourced and recorded vocal can achieve.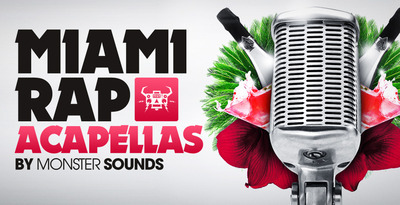 For this pack, we have enlisted the help of 3 hot and talented MC's from Miami, drawing on its thriving hip hop scene (Also being the home of the heavy "Miami Bass" sound) there's a hugely diverse musical history from this exciting melting pot city.
There are 3 very different styles and delivery from the Mc's and we have ensured the guys have given you many options on lyrical content, from street trap rhymes with edgy content to more laid back hip hop, but also bouncing club hype lyrics.