How To Make A Country Trap Beat
You've seen the video and the memes, and now it's time to next the next step in your appreciation of Lil Nas X's 'Old Town Road' by making your own hard ridin' take on the country trap genre! In this tutorial we're using Rankin Audio's Country Trap & Cowboy Beats to make a western-themed trap banger that will have all the least-syphilitic saloon girls beating a path to your door.
From world famous open format superstar DJ, producer and certified wavelord Akira The Don comes the ultimate country trap sample pack.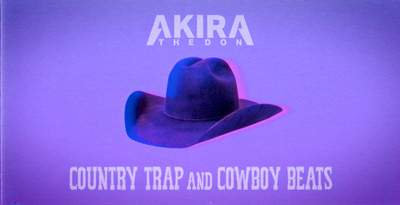 This pack contains all the sounds necessary to create your own country trap bangers in the vein of chart-toppers like Lil Nas X, Billy Ray Cyrus and Tyga, and underground pioneers like Lil Tracey, Yelawolf and Young Thug.
All the components you need are included - on the Country side, we've got a wealth of beautifully executed real live banjos for you to get your Deliverance on, achy breaky slide, steel and nylon guitars, organs, chords, and more. Meanwhile, on the Trap side, we've got thundering kicks, crisp snares, claps and perks, murderous 808s, and a wealth of fresh phonk, cloud and vapor-trap inspired SFX.
Everything you need to craft the next country trap number one smash hit!