How To Make A Neurofunk Drum and Bass Breakdown with Neuro Techstep 2
Neuro drum and bass breakdowns aren't typically the focus of the track, but they're still important to get right as they provide the context for your hopefully devastating drop. In this Drum and Bass tutorial, we'll look at how to make Neurofunk using Neuro Techstep 2 by Singomakers. This pack is available to buy on Loopmasters, and available for free in Loopcloud with a free 30-day trial!
While it's possible to write tracks in chronological order, for example, you could make an intro, then a breakdown, then a drop, this can be challenging - if your breakdown is too big and complex your drop can sound diminished in comparison. So instead, let's quickly create a drop, then work backwards so that we can be sure the drop has the impact we desire.
To create a drop use SNT2_170_Full_Drum_Loop_17 for the beat, and SNT2_170_E_Bass_Loop_37 for the bass.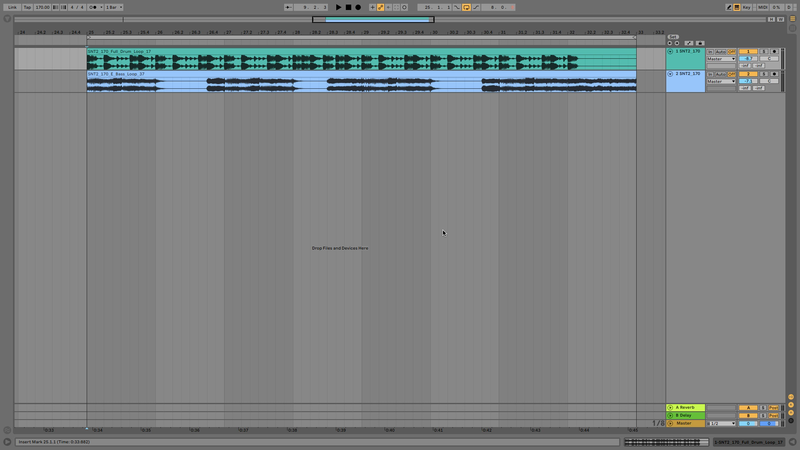 There are a few gaps where we can add some extra sounds, so let's go for SNT2_E_Bass_09 and SNT2_D_Bass_08, which we'll pitch up a couple of semitones so that it fits in with the existing sounds.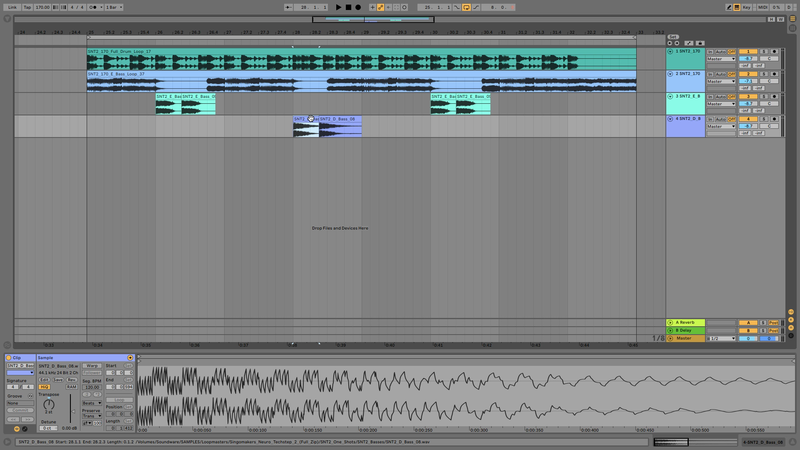 Now we've got a basic drop, let's find some musical elements for the DnB breakdown. SNT2_170_E_FX_Percussion_42 is a cool melodic percussive loop, and it works well in conjunction with SNT2_170_E_Synth_Pluck_47, particularly if we just use the first four bars of each loop.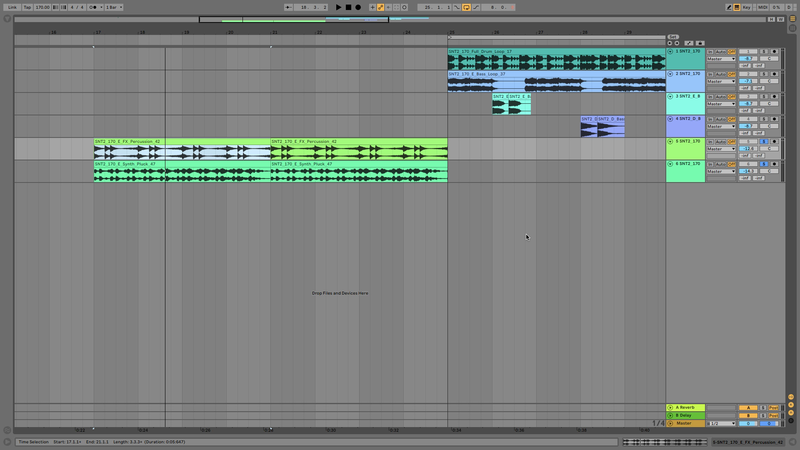 What's more, we can play the pitched percussion loop over the drop and it doesn't take too much away from its impact. This is cool as it gives us a sense of continuity between the DnB breakdown and the drop, and while that's not mandatory in all cases it works quite nicely here.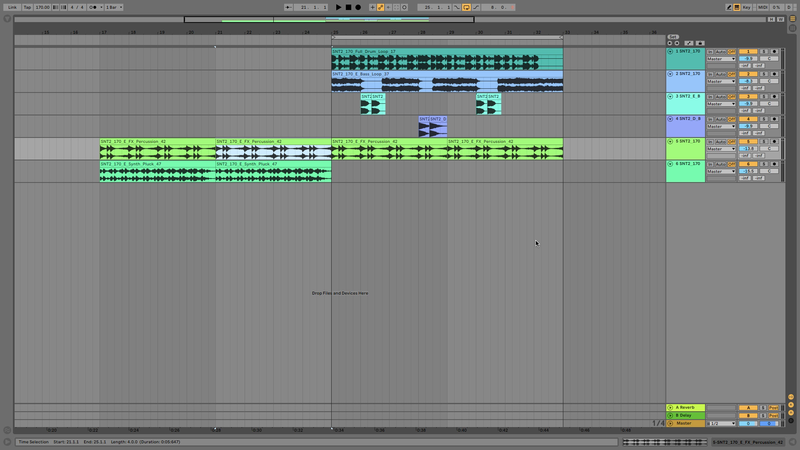 While everything we've got up to this point works technically, it doesn't generate the level of excitement and anticipation one might expect from a neuro DnB banger. Let's remedy this with some trusty DnB transition tools: risers and fills. Let's go for SNT2_170_A_Uplifter_02 and SNT2_170_G_Uplifter_08 as our risers.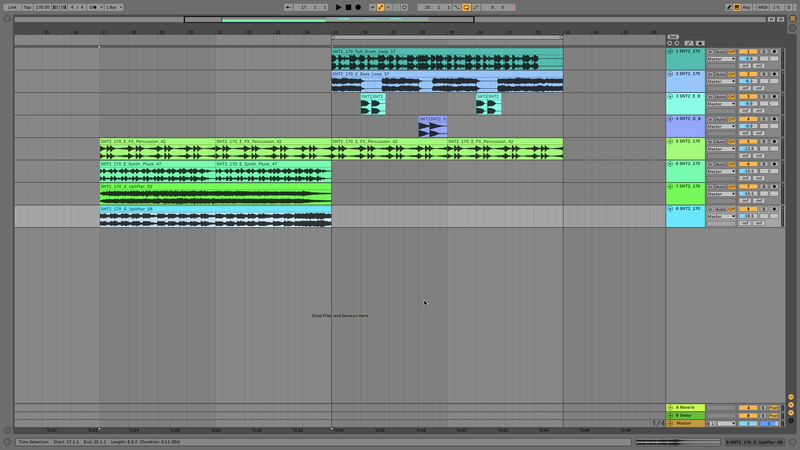 You'll notice these aren't in the same key as the rest of our elements, E, however, they work in the scale of E minor and sound cool so that's not a problem. Fill wise let's use SNT2_170_Drum_Fill_03, positioning it so that it leads into the drop. While we're at it, let's add SNT2_170_Crash_01 on the drop to accentuate it.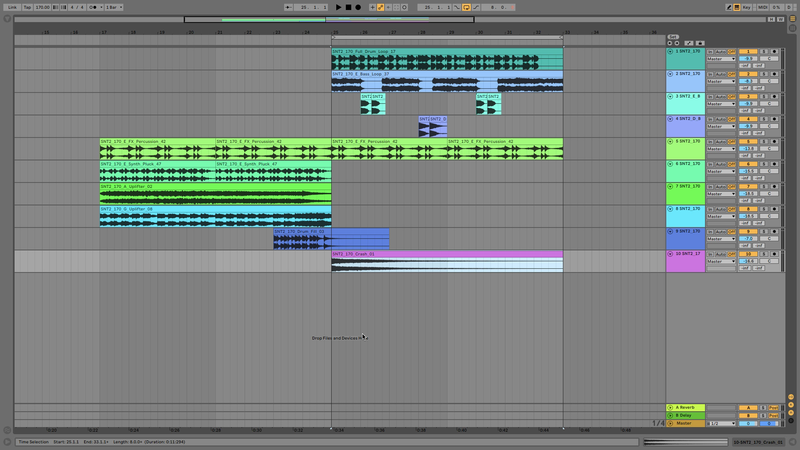 Now we've got a solid drop, let's flesh out the breakdown a little more. Extend the synth pluck part for eight bars. We could do with making it sound a bit more sinister, so we'll add a reverb, turn up its Decay Time to 15.4 seconds, and modulate it's Dry/Wet level from all Wet to all Dry. This gives us an eerie evolving sound that adds another dimension of development during the breakdown.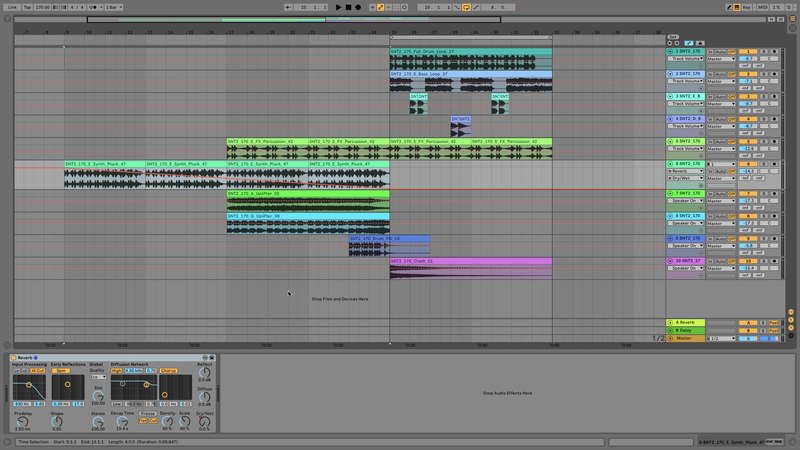 Finally, let's make a small intro to bookend the breakdown. Use just the beat and pitched percussion loop, with SNT2_170_Impact_05 emphasising the start of the breakdown and a reversed version of SNT2_170_Noise_FX_05 leading into it.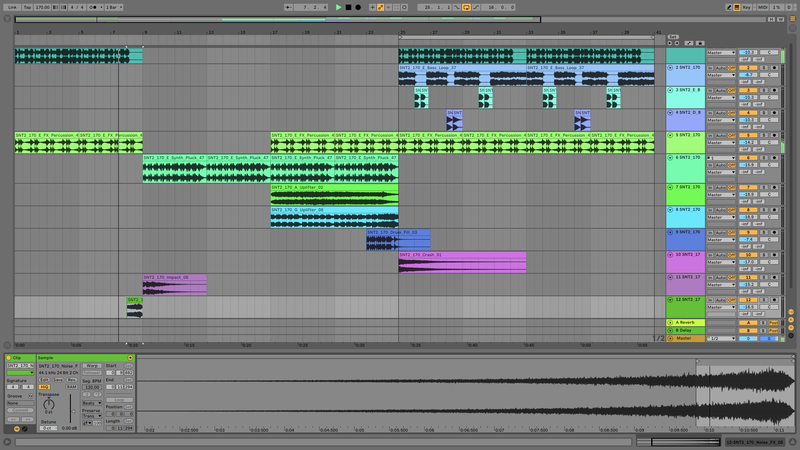 That's it for this Drum & Bass tutorial, visit loopmasters.com for more DnB tutorials and plenty more besides! Don't forget that you can try this out for yourself, all these sounds are on Loopcloud which are offering a 30-day free trial.